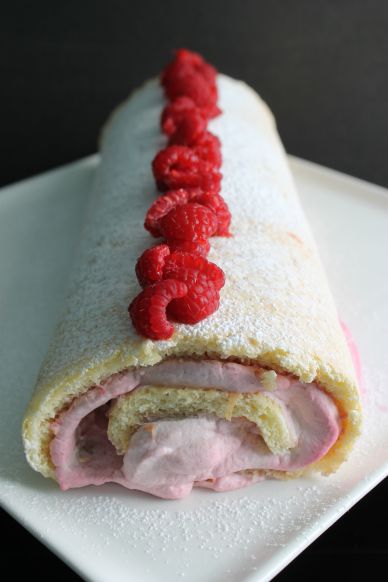 I'm so sick of complaining about the weather. We're pretty much at the end of March, and have barely had temperatures above zero here, much less in double digits like I'm normally hoping for this time of year. I seriously can't wait for Spring which I feel will bring me an improved mental state that will show on my face (bonus points if you know which 80s teen movie that comes from).
Anyway, this also explains why I was so excited to make this dessert, even though I have publicly declared my distaste for both citrus desserts and raspberries in the past. This cake just screams SPRING to me! It's a thin, lemony sponge cake, filled with raspberry whipped cream. I was also very excited to try making a jelly roll cake, because I remember my Mom making one when I was little.
I decided to start making this at 9pm on Thursday night, which is usually a recipe for disaster, but it actually wasn't as involved as I thought. The lemon sponge comes together easily, after you separate your eggs so you can whip the whites and fold them in later. The cake only bakes for about 8 minutes too, with a few gymnastics required (dusting, covering, flipping, rolling) once it comes out of the oven. You actually wrap the cake up in a tea towel to cool, and then unroll it when you're ready to add the filling. My only problem here was that once I spread the whipped cream on the cake, I was so excited to roll it back up that I forgot to sprinkle the fresh raspberries over top. Oopsie. So i just lined them up on top instead.
Well it turns out that raspberry whipped cream is DELICIOUS and pairs perfectly with the lemony cake. Oh I also left out the lemon extract, but it was still plenty lemony with all the zest the recipe calls for.  I love, love, loved this, and it was just so pretty! This would be a perfect dessert for Easter.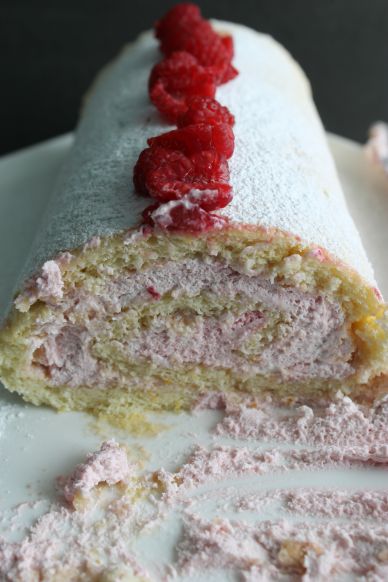 You can find the recipe here!
More Baked Sunday Mornings here!