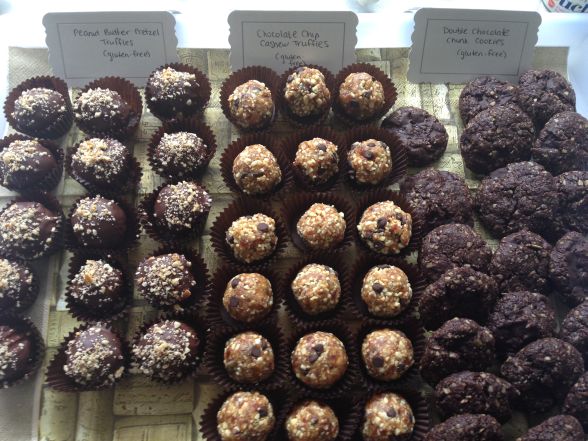 My lovely friend Aoife is getting married this May, and we celebrated her wedding shower a few weeks ago. I offered to bring treats, and they needed to be both gluten-free and dairy-free for the bride-to-be.
After consulting my Oh She Glows cookbook, a few other websites, and remembering what I made for her sister's shower a few years ago, I decided to make:
Peanut Butter Pretzel Truffles
Chocolate Dipped Strawberries
Lydia came over to help out, and I had to laugh because she said she was excited to bake together – little did she know how bossy I am in the kitchen! She was a great helper/mixer/truffle roller, and we had everything done in a couple of hours. Lydia also learned a lot about the various uses of coconut oil (moisturizer, deodorant, replacement for butter in the cookies – ha!).
Everything turned out great, but my personal favourite was the Peanut Butter Pretzel Truffles. I bought a bag of GF pretzels for the first time, and they are totally delicious and freakishly crunchy! They stayed super crunchy in the truffles and I loved that salty/sweet combo. I love how something so simple can be also be so decadent, and the added bonus of no refined sugar.
Side note: How cute are these new gift boxes from the LCBO? (I got Aoife the wine cooler on her registry, and a bottle of wine to go with it from the winery where she's getting married).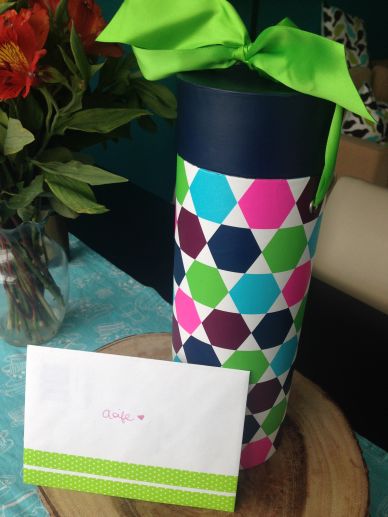 Peanut Butter Pretzel Truffles
Source: Minimalist Baker
Ingredients
3/4 cup raw almonds
1/2 cup pretzels (GF if needed, I used Glutino brand and am now obsessed)
1/2 cup pitted dates
1/2 cup smooth natural peanut butter
+ dark chocolate for dipping
Directions
Add the almonds to your food processor, and process until they turn into coarse crumbs. Add the pretzels and process again until the pretzels are in small pieces. Pour mixture into a small bowl.
Add the dates to the food processor, and process until it forms into a ball. Add peanut butter and process again until well combined with the dates.
Reserve 1/4 cup of the almond/pretzel mixture, and add the rest back to the food processor. Process until combined.
Roll dough into small bite-size balls. You can dip entirely in dark chocolate and sprinkle the reserved almond/pretzel mixture on top, or just dip half, or just drizzle with chocolate.
Store in the fridge or freezer until ready to serve.