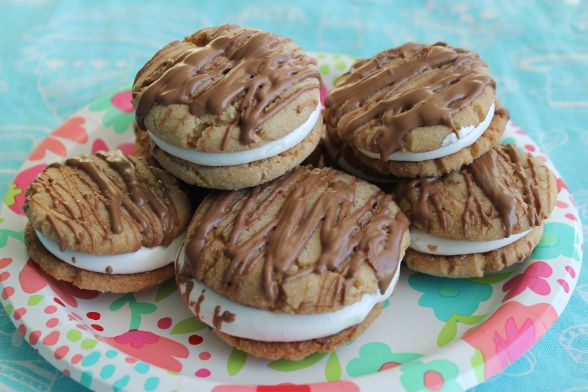 It's well known that I have a serious love affair with S'mores and the holy trinity of graham + milk chocolate + marshmallow. This relationship hasn't been without it's trials and tribulations over the years though, all due to homemade marshmallow making in a variety of forms.
There was this pie, where the marshmallow never thickened; these cupcakes where the frosting of my dreams ended up drooping right off the cupcakes (instead of looking like this); and even two Baked Sunday Morning projects of cookies and pudding, where I could never quite get my marshmallow to thicken and billow like I needed it to.
And so while I've had these S'mores Cookie Sandwiches bookmarked for the last four years, I was scared I would have another disappointment. But then something pretty amazing happened. Last summer, while recipe testing for Baked Occasions, I had to make a marshmallow frosting for some Black Forest Cupcakes. And because I was in my recipe testing zone, I was patient and followed the recipe exactly, and lo and behold, IT WAS A SUCCESS! After 5 years of gloopy marshmallow, I finally had the puffy, pipe-able frosting of my dreams. I almost didn't believe it, but I wondered if it was a fluke.
It wasn't! I made it again last week for my Blog-iversary party, and it worked like a charm once again. Beautiful, shiny, thick swirls of marshmallow that I piped onto these cookies with a chorus of angels singing in the background. I basically can't wait to re-make all those old disasters, and just need to procure a kitchen torch, and then I'll be in business.
Side note: The cookie component here turned out a little too dense/thick for my liking, so I would experiment with something else next time, although they tasted really good.
S'mores Cookie Sandwiches
Source: Cookies from My Kitchen Addiction // Marshmallow filling from Baked Occasions
Ingredients
Cookies
3/4 cup (1 1/2 sticks) butter, room temperature
3/4 cup sugar
1/2 cup brown sugar
1/4 cup honey
1 1/2 tsp baking powder
1 tsp baking soda
1/2 tsp salt
1 egg
2 1/2 cups flour
+ sugar for rolling
Marshmallow Filling
3 egg whites, room temperature
3/4 cup sugar, divided
2 tbsp water
1/2 tbsp light corn syrup
1/2 tsp vanilla
+ melted milk chocolate for drizzling
Directions
For cookies, line two cookie sheets with parchment paper and preheat the oven to 375.
In a large bowl, cream together the butter, sugar, brown sugar, honey, baking powder, baking soda and salt until light and fluffy. Mix in the egg until well combined, then mix in the flour.
Roll dough into balls, then roll in sugar and place on the baking sheet. Press down slightly then bake for 8-10 minutes. (I would err on the side of underbaking here). Let cool completely before filling.
For marshmallow filling, add the egg whites to a large bowl and whip until soft peaks form. Set aside.
In a medium saucepan, add 1/2 cup + 2 tbsp sugar, water and corn syrup and set over medium heat. Stir until sugar is dissolved, then increase the heat and add a candy thermometer, bring to 235 degrees and remove from heat.
Sprinkle the remaining 2 tbsp sugar over the egg whites, mix on low, and slowly stream in the hot syrup until it is all incorporated. Mix on high and beat for about 7 minutes until thick, shiny and beautiful. Add the vanilla and mix again briefly until combined.
To assemble, add the marshmallow filling to a piping bag with a large round tip. Pipe onto flat side of half the cookies, then add another cookie on top. Drizzle with melted milk chocolate.