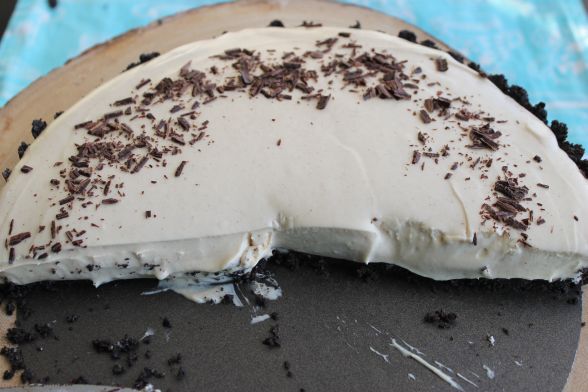 The second dessert I made for my Blog-iversary party is another one I've wanted to make for years, and has a bit of a back story behind it. In 2011, food writer and blogger Jennie Perillo lost her husband suddenly. In response to the outpouring of support and people asking what they could do to help, she said to make this pie and share it with someone you love. This went viral, and "Peanut Butter Pie for Mikey" posts took over the internet, and this was how I discovered Jennie and her story.
In 2013 Jennie released her first cookbook, Homemade with Love, and I met her in Toronto on her cookbook tour. She was so inspirational and positive and just generally amazing. I never forgot her story and I still check in on her blog to see how she's doing and what's going on in her kitchen.
Obviously I never forgot about this pie either, and was looking forward to finally making it. It has an Oreo cookie crust, and the most smooth, luscious peanut butter filling you can imagine. There's also a layer of melted dark chocolate hiding underneath all that peanut butter.
Even though I'm about 4 years too late, it was still nice to make this and share it with friends who I love.
Creamy Peanut Butter Pie
Source: In Jennie's Kitchen
Ingredients
Crust
12 oz Oreo cookies (filling and all)
1/4 cup + 2 tbsp (1/2 + 1/4 stick) butter, melted
Filling
4oz dark chocolate, finely chopped (I used Lindt 70%)
1 cup whipping cream
1 pkg cream cheese, room temperature
1 cup peanut butter
1 cup icing sugar
300mL can sweetened condensed milk
1 tsp vanilla
1 tsp lemon juice
Directions
Finely crush Oreos in a food processor. Pour in melted butter and pulse until combined. Press into the bottom of a 9″ springform pan. (Note: I bumped up the crust ingredients from the original recipe because I barely had enough crumbs to go up the sides. Also, don't use a tart pan like I did, because the filling won't all fit in OR make two tarts).
Melt the dark chocolate and spread it over the bottom of the cookie crust.
In a medium bowl, beat the whipped cream on high speed until stiff peaks form, then stick in the fridge while you prepare the rest of the filling.
In a large bowl, beat the cream cheese and peanut butter together until light and fluffy. Mix in the icing sugar until smooth. Mix in the sweetened condensed milk, vanilla and lemon juice until smooth.
Stir 1/3 of the whipped cream into the peanut butter filling, then gently fold in the remaining 2/3 whipped cream. Pour the filling into the cookie crust, spreading evenly with an offset spatula.
I sprinkled a bit of dark chocolate shavings on the top as a garnish. Chill until ready to serve.