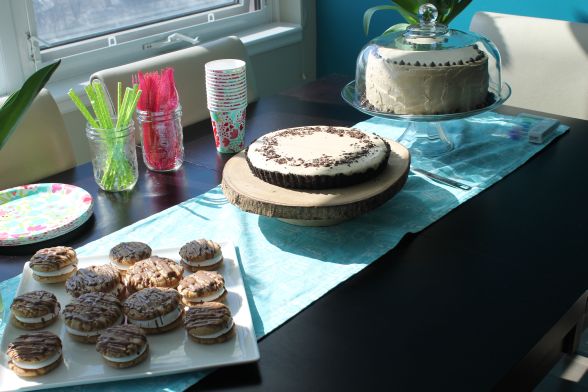 Last weekend I had a few friends over to usher in Spring and celebrate 5 years of blogging. Yes, yes, y'all, the return of the Blog-iversary Party! After my 1st Blog-iversary Party in 2011, I just assumed I would throw one of these every year, but you know, new jobs, root canals, and general winter blahs got in the way. All that to say that I have literally had this recipe bookmarked for 4 years and was pretty excited to finally make it.
So I wouldn't necessarily consider myself a cheesecake fanatic, but I love it when cheesecake is a component in something else. For example, these Smitten Kitchen brownies are one of my favourite treats of life, but I rarely make them because I will eat the entire pan without sharing. So you can see the attraction to this chocolate cake, which has an entire layer of cheesecake in the middle.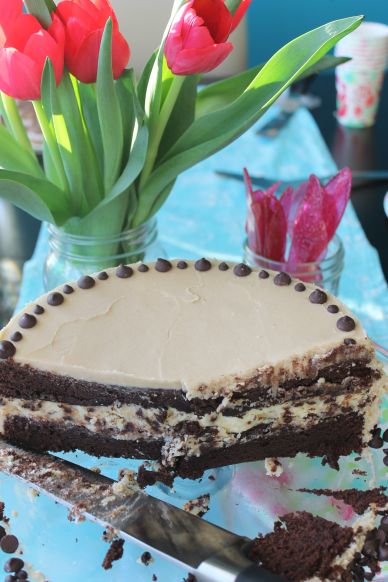 This cake is actually an ideal dessert for entertaining, because you can make the cake layers AND the cheesecake layer in advance and freeze them. This makes it easy to stack up the layers the morning of your gathering, and then all you need to do is add some frosting.
There are endless combinations of cake and cheesecake you could go with here, and the original version on Erin's Food Files is a red velvet cake with a plain vanilla cheesecake filling. I decided to go with a classic chocolate cake, a chocolate chip cheesecake filling, and cookie dough icing (you can see I actually brainstormed this cake back in 2012).
I used this Cookie Dough Icing, but didn't find it to be an ideal match since it's quite thick/heavy and so is the cheesecake filling. Next time I would go with something light and fluffy, maybe a brown sugar buttercream, to provide more of a contrast to the filling. But truly, who are we kidding, this was amazing. I can't wait to make it again!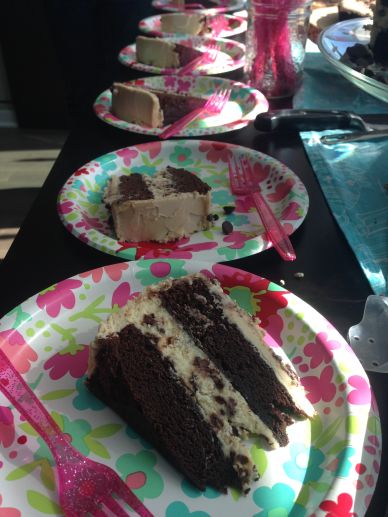 Chocolate Chip Cheesecake Cake
Source: Erin's Food Files, although I used my favourite Chocolate Cake recipe from Anna Olson
Ingredients
Cake
1/2 cup water
4 oz unsweetened chocolate, finely chopped
2 tsp espresso powder
1 3/4 cup cake & pastry flour
1/4 cup cocoa powder
1 tsp baking soda
1/4 tsp salt
1/2 cup (1 stick) butter, room temperature
1 1/2 cups sugar
1/2 cup brown sugar
2 eggs
2 tsp vanilla
1 cup sour cream
Cheesecake
2 1/2 packages cream cheese, room temperature
3/4 cup sugar
1/2 tsp vanilla
1/4 tsp salt
2 eggs
1/2 cup sour cream
1/2 cup mini chocolate chips
Icing
Choose your own frosting adventure!
Directions
For cake, line two 9″ cake pans with parchment paper and spray with non-stick spray, and preheat oven to 350.
In a small saucepan, heat the water, chocolate and espresso powder over medium-low heat, and stir until melted. Set aside to cool while you get the other ingredients ready.
In a medium bowl, whisk together the flour, cocoa powder, baking soda and salt. Set aside.
In a large bowl, beat the butter, sugar and brown sugar until light and fluffy. Mix in the eggs and vanilla, then the cooled chocolate mixture.
Add the dry ingredients, alternating with the sour cream, until everything is combined (I did three additions of dry ingredients, two additions of sour cream).
Divide batter into the two pans and bake for 25-30 minutes or until a toothpick inserted in the centre comes out clean. Let cool in pans for 20 minutes or so, then invert onto cooling racks. Cool completely, then wrap each layer twice in plastic wrap and once in tin foil and freeze until firm.
For cheesecake, first get your pan ready. Line the bottom of a 9″ springform pan with parchment paper and preheat the oven to 325.
In a large bowl, beat the cream cheese until smooth. Add the sugar, vanilla and salt and beat again until combined. Add the eggs and beat until incorporated, then mix in the sour cream until smooth. Use a spatula to fold in the mini chocolate chips.
Pour batter into the prepared pan. Bake until just set in the middle, about 45 minutes. Let cool a bit then stick in the fridge and chill overnight. In the morning, remove the ring from the pan, and wrap the cheesecake twice in plastic wrap and once in tin foil (do not remove the bottom of the pan). Freeze until firm.
When ready to assemble, unwrap all the layers. Place one cake layer on a cake stand or platter. Use a knife to gently remove the bottom of the springform pan from the cheesecake (it will pop right off) and place on top of the cake. Top with the final cake layer. I suppose you could add layers of icing between the cake and the cheesecake, but I don't think you need it.
Crumb coat the whole thing in your icing of choice, chill for 30 minutes, then frost with a final layer and decorate with chocolate chips.