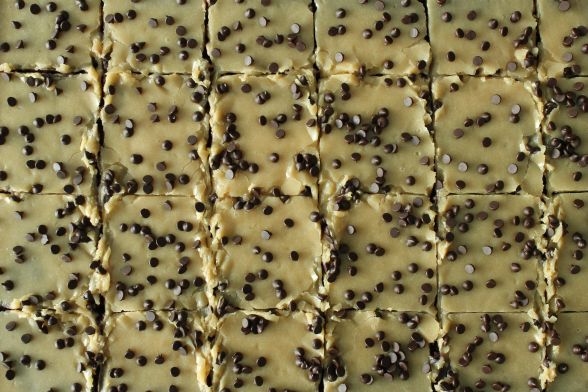 Texas Sheet Cake isn't really a thing up here in the Great White North. I hadn't heard of it until about 2008 when I started reading food blogs, and saw The Pioneer Woman's recipe. Her recipe is a thin chocolate cake that you top with a boiled chocolate and pecan frosting, and it's supposed to be a no muss, no fuss affair. I finally made one a few years ago, although the icing component of the recipe I used was kind of a disaster (you can actually see it over here, check out #37).
I was excited to make one again for this week's Baked Sunday Morning, because it's always fun to tackle a recipe that didn't work well in the past, but especially since the Baked boys put their own twist on it. Their recipe also has a thin chocolate cake base, but is topped with a peanut butter frosting and chopped peanuts. My own little twist was to sprinkle mini chocolate chips overtop, because while I love peanut butter, for some odd reason I don't love actual peanuts in my treats.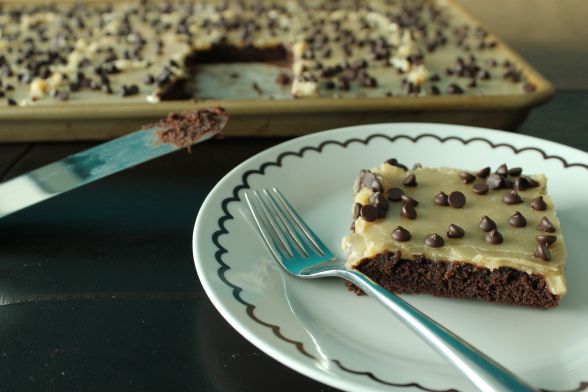 The cake base was quick and easy to mix up, and I followed my friend Dafna's advice and used a 4 qt saucepan, because the chocolate mixture you have to boil bubbles up pretty aggressively. The cake bakes up quickly in about 15 minutes, and you have to start making the frosting as soon as it goes into the oven, because the frosting has to be poured over the cake while it's hot. The peanut butter frosting is very different from a traditional buttercream; instead you need to bring evaporated milk, butter, peanut butter and salt to a boil in a saucepan, and mix it into a pile of icing sugar. It's very runny and more like a glaze, which then gets poured over the hot chocolate cake.
I cut my cake while it was room temperature, but you'll get cleaner cuts if you chill it in the fridge before slicing. The cake component is super hydrated, and not that sweet, which balances out the peanut butter frosting. So far, the slice I tried was room temperature, but the boys note that they prefer this cake chilled, so I'll try another slice tomorrow from the fridge. One final thing: the recipe calls for 1/4 cup shortening which I didn't have, so I just left it out to no ill effect.
TEXAS (SHEET CAKE) FOREVER!
You can find the recipe here!
More Baked Sunday Mornings here!