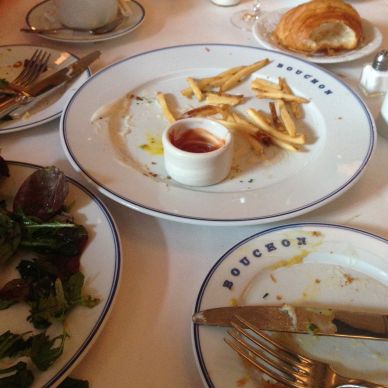 I jinxed myself last month, talking about how I didn't find January all that bad, because of course it all came crashing down in February. I was in major grumpy hibernation mode, but luckily had a quick trip to Las Vegas at the end of the month to look forward to:
Nicole came over for dinner and we had an old favourite (Cheesy Butternut Squash Rigatoni) and my current obsession (Sarah's Kale Salad). This is counting as my Gathering of the month!
When Danielle came to visit a few years ago we went to Pizzeria Libretto on Ossington and it was so amazingly delicious, but I sadly haven't been back with such a long list of other places I want to try. Luckily a new location has opened near my office and I went for lunch with some workplace proximity associates. I had the House-made Sausage pizza and added tomato sauce, and it immediately shot directly to the top of my Financial District Pizza Power Rankings.
I flew to Vegas to meet my parents and celebrate my Dad's 70th birthday!!! We had a super fun three days, and of course fit in some good eats. While my Dad was on a helicopter tour of the Grand Canyon, my Mom and I went to brunch at Bouchon Bistro in the Venetian. I'm not sure anything I write here can do this meal justice. We shared a Croque Madame with frites, a warm goat cheese salad, and the flakiest croissant I have ever had. We couldn't stop exclaiming over how delicious everything was and my Mom even took pictures of everything with her new iPhone (this is what happens when you travel with a food blogger). It was perfection.
The famous cupcakery Sprinkles has opened up a location near the new hotel The Linq and THERE IS A CUPCAKE ATM. I can't handle the cuteness. I have never actually had a Sprinkles cupcake before, although Kristine brought me back a mix from LA a million years ago. I got two cupcakes: Salted Caramel & Peanut Butter Chocolate Chip. I think they were honestly the best cupcakes I've eaten in my life.
For my Dad's special birthday dinner, we went to Jean Georges Steakhouse in the Aria Hotel. My parents both had fish (chilean sea bass + salmon), I had the crispy beef short rib, and we ordered butternut squash gratin and roasted brussels sprouts as our sides. Everything was great, and I loved the vibe. Would definitely recommend if you need a fancy dinner while you're in Sin City.
On our final night we ate at Gordon Ramsay's Pub & Grill in our hotel (Caesar's) and I had a top notch Chicken, Bacon & Kale Pot Pie, and my parents had the Shepherd's Pie (which was actually lamb stew topped with Cheddar Mashed Potatoes). I feel the need to recreate both these dishes at home.
Other non-foodie things I was obsessed with this month:
We went to see Britney in Vegas and the show was so much fun! Hearing all her old songs totally takes me back to my university days, and then when I got home I downloaded all the new songs I've missed over the last few years. Obsessed with "Till The World Ends".
Parks & Recreation wrapped up it's last season and I LOVED the final episode, where it had flash forwards to all the main characters' futures so you see where they ended up. Makes me want to re-watch the entire series from the beginning! I will also now exclusively refer to my co-workers as workplace proximity associates.
Kristine and I love a good teen comedy so we went to see The Duff and laughed so hard!
My friend Kirk loaned me his copy of Bad Feminist which was such an insightful read. In Vegas I read The Girl on the Train, which is worth all the hype, although I found the main character so unlikeable. I also read Someone Else's Love Story from an author I love, Joshilyn Jackson.