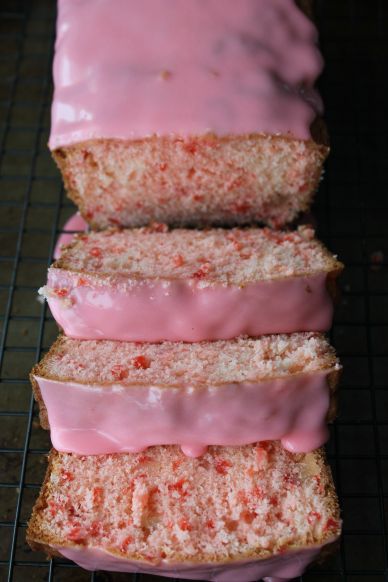 When I was a little kid, my birthday cake choices pretty much alternated between Rainbow Bit and Cherry Chip. I was pretty excited when I discovered how to make Rainbow Bit Birthday Cake from scratch, and when I saw this Cherry Almond Bundt Cake on The Novice Chef Blog, I knew it was going to be another important moment in my life.
There are some fairly terrifying ingredients in this recipe, but if you can handle two jars of maraschino cherries and a weird tube of almond paste, you're almost all the way to Cherry Chip heaven. I thought this would be perfect for Valentine's treats, and I mixed my way to two dozen cupcakes and one little loaf, which I legit could not. stop. eating. It tastes even BETTER than I remember, and the pretty pink is just so cute! It's very hydrated, and really almond-y, and my co-workers went nuts for it. Except the one allergic to nuts of course — I made him some shortbread hearts too.
If you go the loaf route, you can top it with a quick glaze made of icing sugar and maraschino cherry juice, but if you make cupcakes, you have to take Danielle's advice and mix up some Cream Cheese Frosting. We'll talk about that frosting another day, because it's taken me 5 years to figure out to make pipe-able cream cheese frosting, and we all have Annie to thank for that!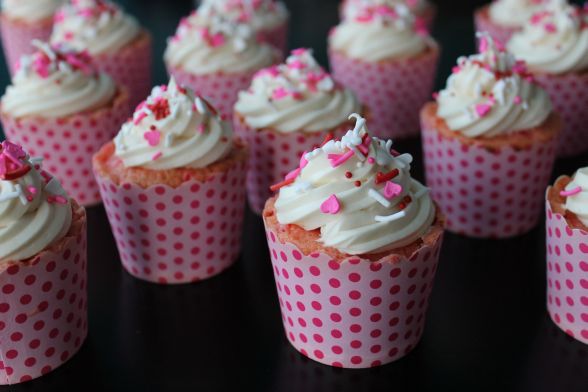 Cherry Chip Cake
Source: The Novice Chef Blog
Yield: 2 dozen cupcakes + 1 loaf (or one big bundt cake)
Ingredients
Cake
16 oz jar maraschino cherries
3 cups flour
2 tsp baking powder
1/2 tsp salt
1 cup (2 sticks) butter, room temperature
4 oz almond paste
2 cups sugar
4 eggs
2 tsp vanilla extract
2 tsp almond extract
1/2 cup milk
Glaze
1 cup icing sugar
2 tbsp cherry juice
Directions
Preheat the oven to 350, and line your cupcake tins with liners and spray your loaf pan (or bundt pan if you're using that).
Strain the cherries, saving the juice for later. Add the cherries to your food processor and pulse until chopped. Set aside.
In a medium bowl, whisk together the flour, baking powder and salt.
In a small bowl, whisk together the milk and 1/2 cup cherry juice.
In a large bowl, cream together the butter, almond paste and sugar until well blended. My almond paste was in a tube and kind of tough to blend in. In retrospect, I should have kneaded it a bit before adding it, or maybe warmed it up a touch.
Beat in the eggs two at a time, scraping down the bowl in between, then mix in the vanilla and almond extract.
Add the dry ingredients, alternating with the milk/cherry juice. (I did three additions of dry//two additions of wet). Fold in the chopped cherries.
Bake the cupcakes for about 20 minutes (start checking after 15 minutes to make sure) and the loaf for about an hour, until a toothpick inserted into the centre comes out clean. Let cool completely.
For the glaze, whisk together the icing sugar and cherry juice and pour over top.