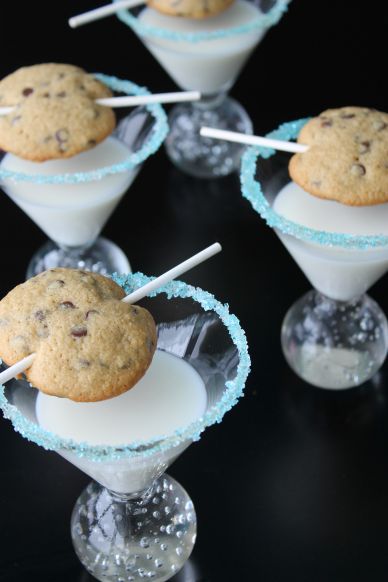 Today we're having a Virtual Baby shower to celebrate our friend Jan, and her baby boy that'll be here quite soon! Good thing Jan herself is an expert in party planning, so I had a look on her website, Family Bites, and in her book, Gatherings, to see what I could bring to this party. I found this post for Milk & Cookies Cocktails on her blog, and as she writes, what a perfect idea for a baby shower.
This is a pretty quick and easy addition to a treat table for a baby shower, and as a bonus you could even prepare the cookie garnishes in advance and pop them in the freezer until party time. You could fill the glasses with regular milk, almond milk, or even bring it to another level with milkshakes. For the non-expecting party guests, check out this recipe for Milk Punch (milk/cream + bourbon + sugar + vanilla = YES!) because, let's be honest, sometimes I require booze to make it through a baby shower!
Congratulations to Jan + Family! Wishing you all the best as your wait for your little guy to arrive!
Make sure you check out what everyone else brought to the party!
Milk & Cookies Shooters
Source: Family Bites
Ingredients
– a batch of your favourite chocolate chip cookie dough (this is mine)
– lollipop sticks (I got mine at Bulk Barn – make sure you know what size glasses you'll be using so you know whether to get short or long sticks)
– blue & white sugar (again, Bulk Barn)
– honey or agave syrup
– martini glasses or little plastic wine glasses
Directions
First get your cookie garnishes ready by rolling the cookie dough into 1″ balls (I found it helped to chill the dough for about half an hour before doing this so it wasn't too sticky). Press a lollipop stick in the middle of the dough and reshape so it's covered (don't poke the sticks through the dough, which is what I did first, and just makes a mess). Place cookie sticks on a cookie sheet lined with parchment paper and bake according to the recipe.
To get the glasses ready, pour some honey onto a plate and mix up your sprinkles on a separate plate. Dip the edges of the glass lightly into the honey, then dip in the sugar and kind of press it in a bit. Keep the glasses upside down for a bit so the sugar can adhere.
When ready to serve, flip the glasses over and fill with milk. Add the cookies. Voila!