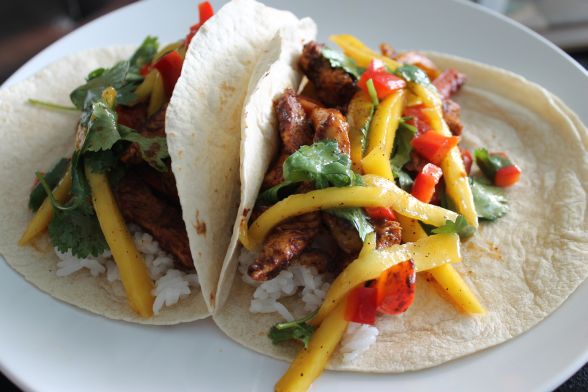 Sometimes "professional" food bloggers take themselves a little too seriously for my liking. By professional, I mean those who blog full-time, while I maintain my amateur status so I can blog in the Olympics (Bonus points if you get that Friends reference). I was trolling on a few of my favourites to my friend Jenn before the holidays, when she gave me the greatest Christmas present I didn't even know I missing from my life.
Ladies and gentlemen, the Food Blogger Forum on GOMI.
I LOLed for real as I worked my way through the threads, although I avoided the Smitten Kitchen one since Deb can do no wrong in my eyes.
The author of the recipe for these fajitas is featured quite prominently, and I won't repeat anything here, but you can check it out for yourself. Shout out to Tiegs though, but whenever I've made anything from her site, it's actually been pretty great. I made these Thai Chicken Fajitas for the first time last winter, and as corny as this sounds, they're bursting with flavour: marinated chicken, zesty mango slaw and coconut rice. Yes please! The coconut rice is truly a revelation, and I could eat the whole pot with a spoon.
I will neither confirm nor deny that I have a secret board on Pinterest dedicated to her recipes.
Thai Chicken Fajitas
Source: Half-Baked Harvest
Yield: this is half the original recipe, enough for 2 or 3 servings
Ingredients
Chicken
1 tbsp olive oil
2 garlic cloves, grated with a microplane
3 tbsp lime juice
1 tbsp brown sugar
1 tbsp chili powder
1 tsp smoked paprika
1/2 tsp cumin
2 boneless, skinless chicken breasts, thinly sliced
1/2 red pepper, thinly sliced
1/2 yellow pepper, thinly sliced
Mango Slaw
2 tbsp lime juice
1 tbsp olive oil
1/2 tbsp fish sauce
1 tsp sweet thai chili sauce (if you don't have this, just leave it out)
1/4 tsp chili powder
1 tbsp cilantro, chopped
1 mango, peeled and thinly sliced
1/2 red pepper, thinly sliced
Coconut Rice
1/2 cup jasmine rice
1/2 cup coconut milk
1/2 cup water
1/2 tbsp coconut oil
1/4 tsp salt
+ flour tortillas
Directions
In a medium bowl, whisk together the olive oil, garlic, lime juice, brown sugar, chili powder, smoked paprika and cumin. Add the chicken strips and peppers and stir to coat. Cover with plastic wrap and stick in the fridge for an hour or so (or at least while you make the mango slaw and get the rice ready).
For the mango slaw, whisk together the lime juice, olive oil, fish sauce and chili sauce. Add the cilantro, mango and peppers, and stir to combine. Cover with plastic wrap and stick in the fridge.
For the coconut rice, add the rice, coconut milk, water, coconut oil and salt to your rice cooker. Give it a quick stir, and let it cook.
When you're ready to cook, heat a large skillet over medium heat, and spray with non-stick spray or add a tbsp of oil. Cook the chicken and peppers until the chicken is cooked through, maybe about 5-8 minutes.
To assemble, first add a little rice to a tortilla, then chicken and peppers and top with mango slaw.