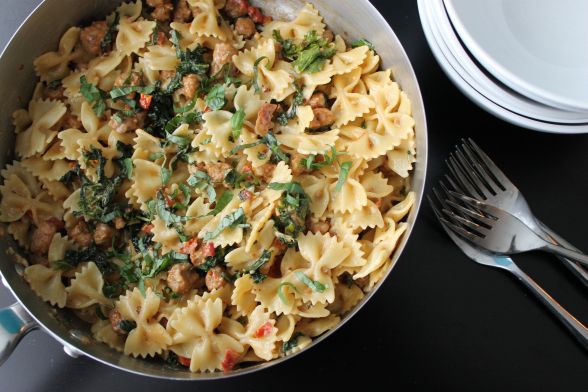 In January I usually refrain from bringing treats into the office, because I don't like hearing everyone complain about how I'm ruining their New Year's resolutions. I expected more of the same in my new job, however last week, someone put out a gigantic tray of Ferrero Rocher, and it was gone in about 12 minutes.  Then I brought in a cake on Friday for my friend who resigned to go back to school full-time, and the ENTIRE thing was gone, with only one person refusing a slice because he's "on a cleanse". I find all of this fascinating. Perhaps I've finally found where I belong!
It always feels good for me to get back into a routine in January, and a big part of this is cooking dinner again after eating out so much over the holidays. This week I have three recipes to post that I've actually made multiple times, and as per usual, if I don't log them here I'll forget they ever existed. So first up is this completely satisfying pasta dish that I made for the first time a few months ago, and am now obsessed with. What's happening here is sausage, sundried tomatoes, a bit of kale* or spinach, lots of garlic and a splash or two of cream for richness.
I've streamlined the recipe just a little bit to eliminate some of the extra/weird ingredients (who ever has three types of fresh herbs in their fridge? why would you put smoked paprika in this?) and this is a legit weeknight meal that I can pull together in about half an hour, with leftovers for work the next day.
*There is a girl on The Bachelor this season with a son named Kale. Not okay.
Creamy Bow Tie Pasta with Sausage, Kale & Sundried Tomatoes
Source: adapted a bit from Bev Cooks
Yield: this is half the original recipe and is enough to serve 2
Ingredients
8 oz bow-tie pasta
1 tbsp sundried tomato oil
2 Italian sausages, casings removed, crumbled or cut into small pieces
2 garlic cloves, minced or grated with a microplace
6-8 sundried tomatoes, thinly sliced
3 cups/handfuls thinly sliced kale or spinach
1/2 cup 1/2 & 1/2 cream
1/4 cup freshly grated parmesan
1 tbsp lemon juice
+ sliced fresh basil (not likely in the winter, I know)
+ more parm for serving
Directions
Cook the pasta according to the directions on the box, drain and reserve about 1/2 cup cooking liquid.
While the pasta is cooking, in a large saucepan, heat the sundried tomato oil over medium-high heat, then add the sausage and cook until golden brown. Add the garlic and sundried tomatoes, and cook for another minute.
Add the kale/spinach and cook until wilted, 2-3 minutes. Add the cream, and simmer for 5 minutes.
Add the pasta, parm and lemon juice and stir to combine. Taste and add salt if needed.