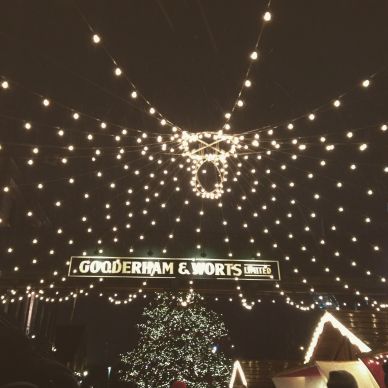 December always goes by so quickly, and even more so this year, as I went back to NYC for another quick trip at the very beginning of the month (I'm going to write a detailed recap of my NYC Eats). When I wasn't baking cookies or wrapping presents, here's what I was up to:
I headed over to the Distillery Christmas Market with my foodie friends, something I've wanted to do for the past few years. It was raining/snowing and frigidly cold, but we sipped hot toddies, walked around the market, and ended the night at Mill Street for some good eats. If you go next year, I highly recommend going on a weeknight, as the weekends are insanely busy. We went on Wednesday night and it was packed.
We had a Secret Santa gift exchange at work, and I made this Tunnel of Hazelnut Fudge cake for my co-worker Tom. I thought he might open it right away to share with everyone in the office, but he took it home, and told me today that he ate almost the whole thing himself. Success!
For my family Christmas dinner I made two pies. The first was Saveur Magazine's Salted Caramel Apple Pie, which has prompted to me to make this bold declaration: I don't like Apple Pie. I just don't. Even one drenched in rich salted caramel. It's just not for me. For the second I reached way back to the Baked boys' first cookbook and made their Bourbon Chocolate Pecan Pie. It was awesomely amazing! I loved it!
I cooked up a storm while I was off over the holidays, and a few recipes you'll see in the next few weeks, except for this because I forgot to take pictures: Jan's Slow Cooked Beef Stroganoff was so incredibly delicious. I need to make it again so I can post it here for you to see.
 Other non-foodie things I was obsessed with this month – Best of 2014 edition:
I basically read everything by Rainbow Rowell this year and loved it all (my Power Rankings: 1. Eleanor & Park, 2. Attachments, 3. Fangirl, 4. Landline). Also loved these two by Liane Moriarty: My Husband's Secret & Big Little Lies. I'll round out my faves with one literary pick (Astonish Me by Maggie Shipstead), one YA pick (I'll Give You The Sun by Jandy Nelson) and one non-fiction (Yes Please by Amy Poehler).
My favourite TV show was The Mindy Project, no contest, I love it. My co-worker gave me the first 4 seasons of The Good Wife to binge on at the beginning of the year, and I caught up just in time to join in watching season 5 and it's tragic BIG TWIST. Season 6 has had me glued to my TV and emailing my sister-in-law on Monday mornings in ALL CAPS to shout about what happened the night before. Over the holidays I also caught up on Orange is the New Black, which was great, and also watched Broad City which I can't stop talking about.
Honestly I feel like it was such a blah year for movies, and I was been complaining about this all year. I would say though that I loved: Boyhood, Before We Go (Chris Evans movie from TIFF), and of course, The Fault in Our Stars.
As far as music goes, I really just continued to listen to Beyonce all year, so I'm not your best bet in this arena. Best day of the year was July 9th and being in the front row for the On The Run tour!