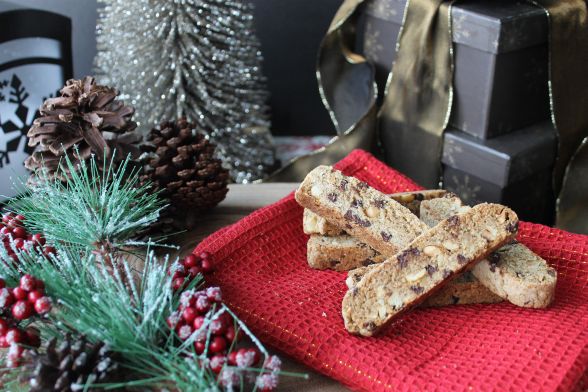 I had a lot of fun participating in the The Great Food Blogger Cookie Swap last year, but I wasn't sure if I wanted to do it again this December. I knew I would be preparing for a trip to NYC the week of the shipping deadline, plus trying to get a head start on my own cookie baking for my Christmas Party, and let's be real, it stressed me out last time. It's a lot of pressure to bake for other bloggers, plus think about how things will ship, and make sure you get everything out on time. Despite all that, I signed up, reminding myself of a few key lessons learned from last year:
Test the cookie in advance.
Don't leave everything to the last minute.
This is supposed to be FUN!
I took my own advice and everything went so much more smoothly this year. I chose this Espresso & Hazelnut Biscotti because I made a batch last month for my former boss, and received an email from him declaring it THE BEST BISCOTTI EVER so I was sure it would be a hit (also: the recipe is from The Messy Baker Cookbook, which we all know is amazing). Biscotti is also great for shipping, which I realized after receiving Gingerbread Biscotti in the swap last year from Cheri.  I actually had everything baked, packaged and shipped two whole days prior to the deadline, and didn't take the whole so seriously this year. I shipped my packages to Claude in Winnipeg, Sarah in Calgary &  Laura in Ottawa, and waited for the Instagrams to roll in.
In return, I received these cookie packages:
Ginger Molasses Cookies from Sylvie (Sylvie Isabelle) in Quebec: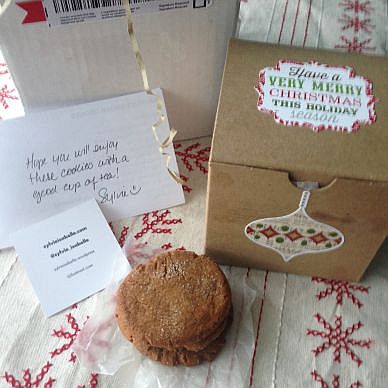 Pumpkin Chocolate Chip Cookie Butter Cookies from Carole (The Yum Yum Factor) in Toronto: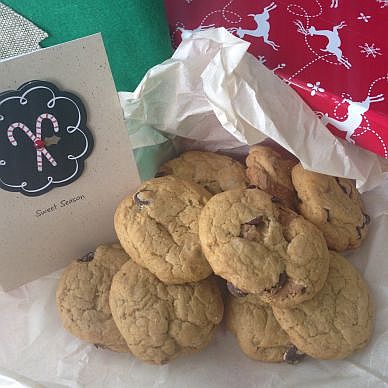 Ancho Chili Chocolate Cookies from Bernice (Dish 'N' The Kitchen) in Calgary: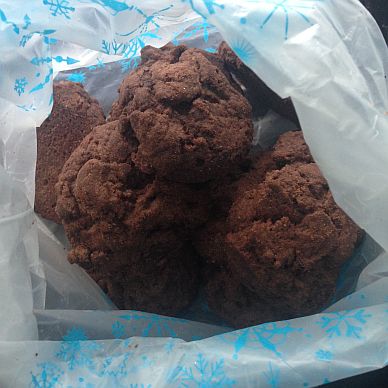 Espresso & Hazelnut Biscotti
Source: Slightly adapted from The Messy Baker Cookbook, only because I left out the orange zest and cinnamon
Ingredients
1/2 cup butter, room temperature
1 1/4 cups sugar
2 eggs
1 tbsp vanilla
2 3/4 cups flour
1 tsp baking powder
1 1/2 tbsp espresso powder
1/2 cup mini chocolate chips
1 1/2 cup hazelnuts, toasted, skins removed, and roughly chopped
Directions
Preheat the oven to 350 and line a large baking sheet with parchment paper.
In a large bowl, cream the butter and sugar together until light and fluffy. Add the eggs and vanilla and mix until combined.
Stir in the flour, baking powder and espresso powder and mix until just combined. Add in the chocolate chips and hazelnuts and stir again until incorporated.
Split the dough in half and shape each half into a log, aiming for 12″ long and 1″ high. Bake for 25-35 minutes, then remove from the oven and let cool for 15 minutes. Reduce the oven temperature to 325.
Put the logs on a cutting board and use a sharp serrated knife to cut the lots into 1/2″ slices. Place the cookies cut side down on the baking sheet, and bake for 10 minutes. Flip them over and bake for 5-10 minutes more.