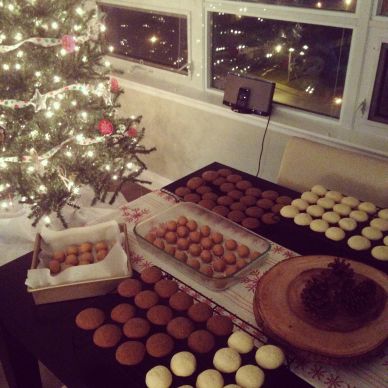 I usually find November a pretty chill month after everything going on in October, and this year was no exception. Lots of family time, friends time, baking time, and almost all of my Christmas shopping is done! Here's what else was happening:    
Let's start off with a confession: I love Lone Star. Seriously, they have THE BEST tortillas EVER. I thought this tweet summed it up perfectly, as Kristine and I just had a catch-up dinner there at the beginning of this month. You know what? I won't be ashamed to Instagram my visits to Lone Star anymore!
My brother and his kids came over to hang out, and my niece and nephew had fun mixing up a batch of Blondies. They basically wanted to add everything to them, so we threw in chocolate chips, peanut butter chips, caramel filled chips, sprinkles, and topped it with some marshmallows in a happy face. They were so good, and an easy recipe to make with kids (we just had to add an extra egg so each one of them could have a turn cracking one!).
There were a big bunch of freckle-y bananas on my counter, so I made Joy's Bourbon Chocolate Chip Banana Bread. I forgot how good it is.
I had dinner with my friend Jenn at Speakeasy 21, a relatively new bar/restaurant in the financial district. They have lots of little snacks and apps for sharing, and I wanted to try them all. We narrowed it down to: Potato & Cheddar Pierogies, Black Bean Taquitos, Butter Chicken Meatballs and a Kale Caesar Salad. We loved everything! So much so, that I went back the next day for lunch with my friend Janelle, and we had the Pierogies, the Popcorn Crusted Chicken and the Kale Caesar. Loved everything again! I was just looking at the menu and it looks like they've added some new things. If anyone wants to meet me for lunch there, let me know!
Nicole came over for our 5th Annual Christmas Baking Day (pictured above) and we made one of our usuals, Buckeyes, but switched it up with some new things for Nicole's party this year. She selected a few Champagne & Cookie All-Stars, plus we made a big pan of Hello Dollies, my #1 treat of all time.
There were a bunch of birthdays in my office last week, and after careful research, I made the following treats for my co-workers: Cinnamon Blondies (I didn't like these, but the birthday girl loved them), Anna Olson's Chocolate Chip Cookies (seriously the best), and Charmian's Homemade Oreos from The Messy Baker book (KILLER!!! People were VERY perplexed, "I've never even heard of homemade Oreos before!").
I know I don't usually do re-runs here on my monthly recaps, but if I don't mention these places, I'll have nothing to write about this month. Here are some of my regulars: The Gabardine for a birthday lunch with Molly & Ali (favourite lunch ever is their grilled cheese), Bannock for lunch with my former boss (I brought him biscotti; he misses me), El Catrin for a co-worker's birthday dinner (love the Zarzamora cocktail!), and Drake 150 for the same co-worker's birthday lunch (BURGER!).
If you haven't entered our Butter Baked Goods Giveaway, make sure to head over to this post for your chance to win!
Other non-foodie things I was obsessed with this month:
I went to see URSHER at the beginning of the month and it was like having my whole life reflected back to me in song! *swoon*
Book Club reconvened over nachos to discuss I'll Give You The Sun. Some mixed reviews, but I think the general consensus was that it started off slowly, and got better by the end. I personally LOVED it, and am excited to read Jandy Nelson's first book, The Sky is Everywhere. Next up for the club is Amy Poehler's Yes Please. I also read Johnathon Troppers One Last Thing Before I Go (since I liked This Is Where I Leave You so much) and it was super funny, sad, and heartwarming all at the same time. Loved it.
Alexis, Kristine and I went to the Raptors game last Friday and we met JALEN ROSE! This is a big deal for me as I listen to his podcast on Grantland every week, and he makes me laugh so hard. I asked Jalen where his bat was, and he told me it didn't make it through customs! Amazing!