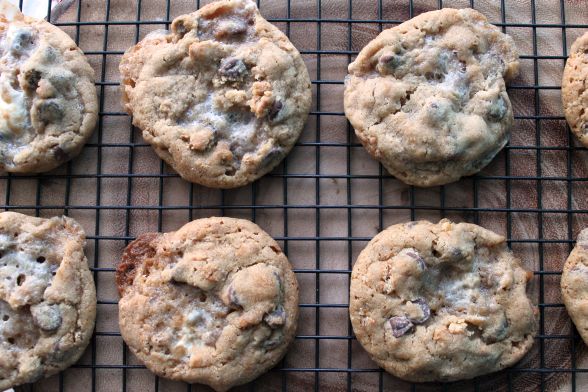 It's my first Baked Sunday Morning from Baked Occasions! Yay! The group actually started a couple weeks ago with these Election Palmiers, but I didn't really feel like making my own puff pastry, plus I just knew that a S'MORES recipe would be the perfect place for me to start (evidence here).
These cookies are basically a chewy brown sugar cookie base, studded with graham cracker chunks, chocolate chips and mini marshmallows. I used milk chocolate chips of course, for that classic s'mores flavour profile, but you could definitely use semi-sweet or dark chocolate chips for more contrast. Of course some of my marshmallows exploded out the sides of the cookies, but it didn't affect the taste, and my #1 s'mores recipe taster just loved them. There's a bit of honey in the dough as well, and I think it contributed to the chewy factor of these cookies.
Baked Occasions is set up to match the calendar year and corresponding holidays, but I don't think our baking schedule for BSM will match up perfectly. In this case, they do, as the Campfire Cookie is in the 12 Days of Cookies interlude in the book for the Christmas holidays. Some people might be perplexed to see a summery treat in the dead of winter, but I like s'moresy things year round, so I'm on board with this.
You can find the recipe here!
More Baked Sunday Mornings here!