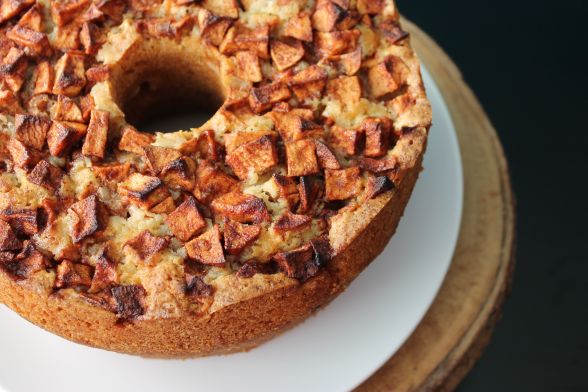 When I returned from my various travels at the end of October, I still had a crisper full of Empire apples from my trip to Chudleigh's. I didn't feel like making apple butter, but needed another recipe that would use up the rest of my beauties before they started to take a turn. I immediately thought of this cake from The Smitten Kitchen Cookbook, and had my Mom unearth her tube pan from the dark abyss of her corner cabinet. I don't think this thing has seen the light of day in like 20 years (love you Mom! hahaha).
To make this cake, you whisk up a simple cake batter and layer it up with 3 lbs of chopped apples that you've tossed with cinnamon and sugar. It couldn't have been easier to mix up, but be warned that it has a 90 minute bake time, and then needs to cool completely in the pan before you turn it out.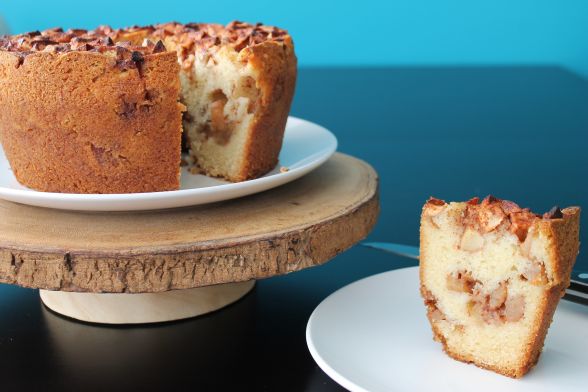 Deb writes in her book that this is the type of cake that only gets better as time goes by, and I can attest to that, as I had a slice as my after work snack every day for almost a week. It is super hydrated and lovely and I love the apples on top and tucked inside. I sliced and packed up the rest of the cake for some friends and they loved it too!
Shouts outs to Danielle for my new cake platter she sent me for my birthday!!! It's going to be in every picture from now on!
Deb's Mom's Apple Cake
Source: The Smitten Kitchen Cookbook, but the recipe is also on her website here
Ingredients
Apples
3 lbs apples, peeled, cored and diced into approx. 1/2″ pieces (I used Empire apples)
5 tbsp sugar
1 tbsp cinnamon
Cake
1 cup vegetable oil
2 cups sugar
1/4 cup orange juice
2 1/2 tsp vanilla
4 eggs
2 3/4 cups flour
1 tbsp baking powder
1 tsp salt
Directions
Preheat oven to 350 and spray the heck out of a tube pan.
In a medium bowl, toss the apple chunks with the sugar and cinnamon and set aside.
For the cake, whisk together the oil, sugar, orange juice, vanilla and eggs.
Add the flour, baking powder and salt, and whisk again until no dry bits remain.
Pour half the batter into the tube pan, and top with half of the apples. Spread the remaining batter over top, and top with the rest of the apples.
Bake for 90 minutes, or until a skewer inserted into the cake comes out clean. Let cool completely in the pan, and then turn out onto a plate or platter.