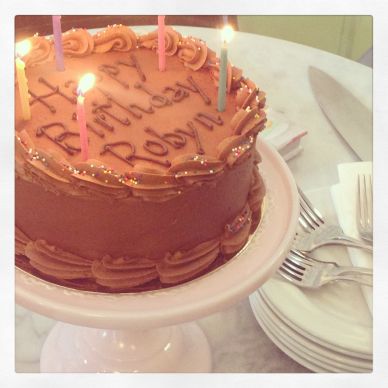 October is always a packed month for me, with Thanksgiving, my birthday and Halloween, plus this month I had trips to NYC & Vancouver in the mix as well, so there was a lot going on. Besides my favourite baking project of the year, I didn't get up to that much while I was in town, so I decided to combine my monthly recap with my Vancouver Eats for your reading enjoyment:
First of all, I found out my co-worker HATES PEANUT BUTTER one year after making him these as a thank you for helping me with something. This distressed me to no end, so of course I found out what his actual favourite cookies are and made him these amazing Oatmeal Chocolate Chip Cookies. This recipe is incredible, I highly recommend it for thick, chewy oatmeal cookies, with chocolate chips, not raisins, as nature intended.
I didn't contribute anything besides my birthday cake to Thanksgiving dinner, as it fell between my trips, and I didn't have much time to prepare. But! I did cook up a batch of Carole's amazing Chorizo Beer Chili, which is boozy and hearty, and makes delicious chili fries if you have leftovers. It's a keeper.
I traveled to Vancouver for FBC2014 (separate blog post to come), but went a couple of days early to hang out and celebrate my BIRTHDAY. Here's what we got up to…
Jenny & I were starving when we touched down in Vancouver, and made our way over to Relish Gastropub near our hotel to meet Heather and grab a bite. We followed that up with a trip to Cartems Donuterie where the Pumpkin Cheesecake Stuffie Donut rocked my world. This was a yeast donut filled with a pumpkin cream cheese mixture topped with vanilla icing and some sort of crumble topping. YES.
Oh my birthday there was only one place I really wanted to go: Butter Baked Goods. My dream came true as my friends and I headed over there, and they surprised me with a chocolate cake (pictured above) that was out-of-this-world. I also picked up a Hello Dolly, Campfire Square, Peanut Butter Sandwich Cookie and Vanilla Cupcake to take back to the hotel, plus some Vanilla Marshmallows and packaged S'mores to take home. This little bakery is just the cutest shoppe (more posh if you put the extra –pe on the end) and we got to meet the owner, Rosie, and she could not have been nicer. I'm in love.
My birthday dinner was at Fable, owned by your old friend Trevor from Top Chef Canada Season 2. We had some amazing cocktails and house made bread to start, and the chickpea fritters with pickled red onion and curry mayo. My main was a ricotta gnocchi with pulled pork, pesto, burnt onion powder and some other delicious components I can't recall. My dessert was an aerated white chocolate pudding (therefore…mousse?) with homemade cocoa cookie crumbles. Everything was great, the service was amazing, and the space was so cozy and welcoming. Shout-outs to my food blogger rock stars for making my day so special.
Other non-foodie things I was obsessed with this month:
I went to see Gone Girl the night it opened, and thought it was really well done. Creepy and unsettling and messed up, just like the book. So glad Reese Witherspoon stayed as the producer and decided not to star in it; Rosamund Pike was perfect as Amy.
Lena Dunham made a stop in Toronto for her book tour, and I went to see her interviewed at the Toronto Reference Library. I thought her book was just okay, but enjoyed listening to her speak. She has so many interesting opinions on life, success, friendships and feminism. As my friend Nicole said, I could have listened to her for hours.
In Vancouver, we happened to meet the lovely Linnie von Sky, a children's book author, while we were shopping on our first afternoon in town. She instantly became our friend and came with us to eat donuts, introduced us to her husband, and ended up having us over for brunch to her adorable home. I spotted Baked Elements on her bookshelf and explained how I had just been in New York the week before with the authors of that book, at the grand opening of their new bakery. It was one of those weird serendipitous encounters that sometimes happens in life, and I still smile whenever I think of Linnie.