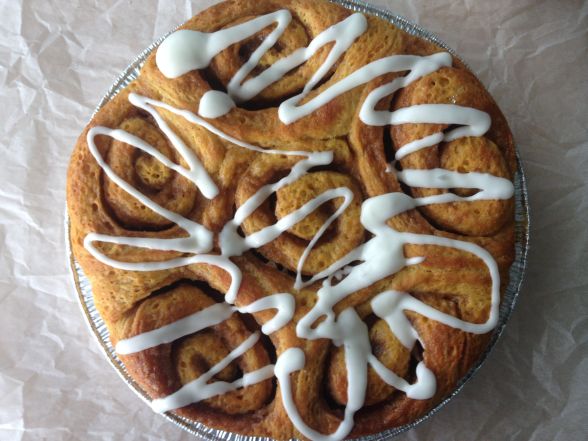 So I have actually made Pumpkin Cinnamon Rolls before, but as if I would pass up a chance to try the Baked boys' recipe! I don't need that much of an excuse to make spiced, carby goodness, and I mixed these up last weekend, which was Thanksgiving up here in the great white north.
This recipe was pretty straightforward to make, and the only change I made was to heat the milk to 115 degrees, and proof my yeast in it for 5 minutes before adding to the dough. This was because I only had active dry yeast and not instant yeast at home. Other than that, everything was the same. My only problem was that I didn't use big enough pans and/or I let the cut rolls rise too long, because they kind of exploded out of the pans. No matter, they still tasted amazing, and the drizzle of cream cheese on top was perfect.
So that brings us to the end of the Pumpkin section of Baked Elements! Here's a little recap of what I made and my favourite recipe from this section:
Recipes made: Pumpkin Cinnamon Rolls, Pumpkin Harvest Dunking Cookies
Favourite Pumpkin Recipe: Pumpkin Cinnamon Rolls
Recipes I Didn't Make: Toasted Pumpkin Seed Brittle, Pumpkin Almond Cake with Almond Butter Frosting, Pumpkin Cheesecake Bars (the group made these before I caught up) and I passed on the Chocolate Chunk Pumpkin Bread Pudding (Truth: I made the Chocolate Chunk Pumpkin Bread and it was so good I ate most of it so it didn't even have a chance to become bread pudding!)
You can find the recipe for the Pumpkin Cinnamon Rolls here!
More Baked Sunday Mornings here!
Only 1 more recipe to go!!!