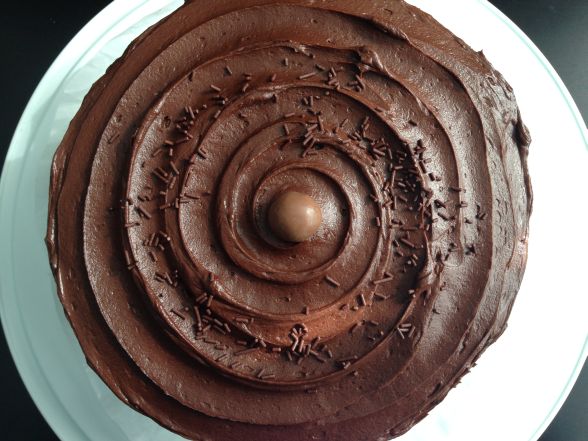 Today is my BIRTHDAY and there was no question in my mind what my birthday cake would be this year. I've had my eye on this cake forever, and then my friend Danielle made it twice this summer, and I knew it needed to happen.
I've written about this at length before, but I love making my own birthday cake. It's my favourite baking project of the year, other than my Champagne & Cookies party. I just love it.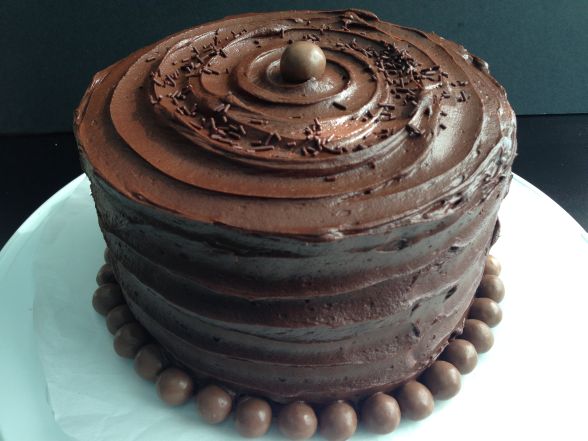 So what makes this cake a Campfire Cake? First of all, the foundation is three layers of SUPER hydrated, rich chocolate cake, that could not be easier: two bowls, a whisk, and you're good to go. It's filled with toasted marshmallow frosting, in which you legitimately broil marshmallows in the oven and add them to a buttercream frosting, so that there are little bits of brown, toasty, marshmallow goodness swirled throughout the frosting. Finally the whole cake is covered in a glossy, smooth chocolate malt frosting. I suppose there should be a graham component somewhere to make it truly s'moresy, but I didn't overthink it.
I also followed Danielle's advice and picked up a lazy susan/turntable thing, which made decorating this cake a breeze, and let me do the neat swirly effect on the sides and on the top. She's so smart!
I loved my cake, and it was an excellent Thanksgiving dessert!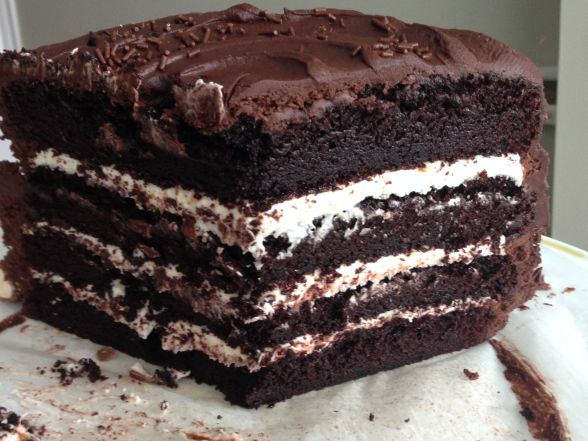 Campfire Cake
Source: Cake & Marshmallow Filling from Sweetapolita, Chocolate Malt Frosting from The Joy the Baker Cookbook
Ingredients
Cake
2 1/2 cups flour
3 cups sugar
1 cup dark cocoa powder
1 tbsp baking soda
1 1/2 tsp baking powder
1 1/2 tsp salt
3 eggs
1 1/2 cups buttermilk
1 1/2 cups hot coffee
3/4 cups vegetable oil
1 1/2 tbsp vanilla
Toasted Marshmallow Frosting
1 cup (2 sticks) butter, room temperature
1 cup icing sugar
1/2 tsp vanilla
1 jar (213 grams) marshmallow fluff
16 large marshmallows
Chocolate Malt Frosting
3/4 cup (1 1/2 sticks) butter, room temperature
1/2 cup cocoa powder
1/2 tsp salt
2 1/2 cups icing sugar
2 tbsp milk
1 tsp vanilla
1/2 cup whipping cream mixed with 1/3 cup chocolate Ovaltine powder
Directions
For cake, line two 8″ cake pans with parchment paper and spray with nonstick spray. Preheat the oven to 350.
In a large bowl, whisk together the flour, sugar, cocoa powder, baking soda, baking powder and salt. In a medium bowl, whisk together the eggs, buttermilk, coffee, oil and vanilla, and pour into the dry ingredients. Whisk until smooth. Divide batter equally between the two prepared pans and two small bowls. Bake the cake layers until a toothpick inserted comes out mostly clean, about 20 minutes. Let the cake layers cool in the pans for 20 minutes, then flip out onto cooling racks. Wash and dry the pans, and repeat to bake the other two layers. Place the cake layers in the fridge or freezer to cool completely.
For the toasted marshmallow filling, beat together the butter, icing sugar and vanilla until smooth. Add the marshmallow fluff and mix again. Now line a cookie sheet with parchment paper, spray it with nonstick spray and set the marshmallows on it. Set the oven to broil, and stick in the cookie sheet. Watch it super closely, as the marshmallows can burn very quickly. When golden brown, take the sheet out of the oven, and carefully flip the marshmallows over, and broil the other side. Remove sheet and add to bowl. Mix again on low speed. It'll be a sticky delicious mess. I chilled the bowl for about 30 minutes to firm up the icing before proceeding.
Divide the marshmallow frosting evenly in thirds, and stack up your cake layers with marshmallow frosting in between. Stick in the fridge while you make the chocolate malt frosting.
For the chocolate malt frosting, cream together butter, cocoa powder and salt until smooth and creamy. Add the icing sugar, milk, vanilla and cream/Ovaltine mixture and mix again for a couple of minutes until fluffy and smooth.
Ice the cake with a very thin layer of chocolate icing, and stick in the fridge for 30 minutes to set, then finish with a final thick layer of frosting.