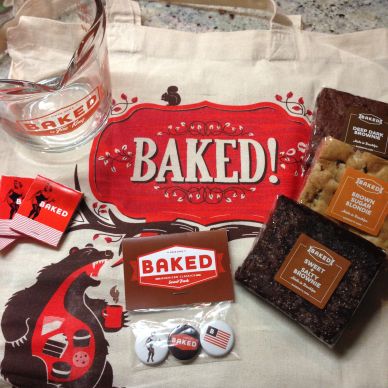 Magical. That's the only way I can even begin to describe my whirlwind, 36-hour trip to New York City. As I sat in Washington Square Park, I just had a moment: is this really my life? Who takes a mid-week, two day trip to Manhattan for a cookbook launch party??? Turns out I do, and I'm so happy I decided to go.
Meeting my Baked Sunday Morning crew at the party was just the most fun. I felt an immediate connection to the whole gang, as we traded stories about the recipes we tested, the bakeries we visited during the day, and generally bonded over the whole experience. Sheri, Sandra, Kristen, Liz, Mark, Dafna, Erin and Christine – it was so amazing to meet you guys! If you ever find yourselves in Toronto, make sure to let me know! And to the rest of the Badass Recipe Testers who couldn't make it – you were missed!
Matt & Renato could not have been more welcoming and thankful that we were all able to make it out! They signed our books, posed for countless pictures, and are just the nicest, sweetest, most down-to-earth boys you could imagine. They also gave each of us a tote bag full of swag, and it held all the goodies you see up above. Matt & Renato – thank you SO MUCH for this opportunity! You guys are the best!
I haven't even mentioned the treats yet! There were many recipes from Baked Occasions, and lots of others from the boys' previous cookbooks. I had a mini Brookster, a Peanut Butter Crispy Bar, and a Sweet & Salty Cupcake. SWEET JESUS. It was the best cupcake of my life. There was also a DJ, a photobooth, and burlesque dancers! We chatted, ate, took a billion pictures and then I finally succumbed to my aching feet and decided to call it a night. It was truly such a special, magical, once-in-a-lifetime experience, and I'm so, so happy I was a brave little Byn and went!
So besides that, were you wondering how many treats and food-related shops I could eat and visit in 36 hours? Here goes:
Other notes:
I pretty much walked everywhere, which is an amazing (yet exhausting) way to see great parts of the city, and burn off some of the sugar I consumed.
I stayed at the Tribeca Grand Hotel which I absolutely LOVED. Everyone was so nice and friendly, and there was the best lounge/bar on the main floor that I was obsessed with.
Obama was eating at a restaurant across the street from the hotel on Tuesday night, and all the streets were closed off with NYPD everywhere.
I saw Vanessa Bayer crossing the street in the Village except I couldn't remember her name, and thus couldn't accost her with my best impression of her, doing her impression of Miley Cyrus.
I didn't want to come home BUT will be back in December with my friend Lydia and can't wait!
There are pictures of the party and many of the treats I ate on my Instagram.
And with that it's back to reality and time to prep for Thanksgiving!