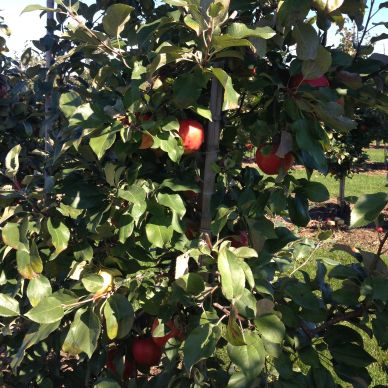 I personally love September, and the whole 'back to school' of it all. Routines are re-established, cooking dinner starts happening again, and boots and scarves come out of hibernation. Unless you live in Southern Ontario, in which case it was hotter than the actual summer months around here. Here's what happened in my foodie world this month:
First of all, I really tried to rein it in after a Summer of eating out constantly. This makes for a pretty sparse monthly recap, as the couple of places I did try aren't even that noteworthy, with the exception of Scaddabush in Mississauga. I need to go back there because there are 325167 things on the menu I didn't get to try.
My friends Aoife & Brad had me over for an amazing dinner: oven roasted ribs with a homemade dry rub, 'slaw, and peach crumble for dessert. The ribs were LEGIT and made me wonder why I haven't made them at home since 2012. Thanks for having me guys!
I really made a concerted effort to start cooking dinners again. I didn't like everything I made (Lemon Pasta Chicken with Broccoli, Thai Green Curry Meatballs), but found some new things that I love (Honey Garlic Chicken, Bourbon Molasses Pork Tenderloin) that I'll blog about again soon. I even hit up the Planet Byn archives for some tried and true dinners (Thai Peanut Quinoa Bowl, Goat Cheese & Arugula Pizza).
I went to Chudleigh's for my annual apple picking extravaganza and brought home a huge bag of Honeycrisps (for snacking) and Empires (for baking). Check out my APPLE board on Pinterest to see what my apple brain looks like.
Honestly, that's all I got! Two weeks of the month were spent baking for the BPEJ, which you've already read so much about here!
 Other non-foodie things I was obsessed with this month:
September means it's TIFF time! In my new job I don't get to go to any events like the last two years, but I still got tickets to a few things to see on my own. First up was a Mavericks interview and event with Reese Witherspoon, then Adult Beginners, and Before We Go, which was Chris Evans' (Captain America!) directorial debut. I loved it so, so much.
New TV is back!!! I can't tell you what a joy it is to have new episodes of The Mindy Project back in my life.  For new shows, I tried Gotham, Red Band Society, and How To Get Away With Murder. We'll see how they go.
I barely read anything this month, with the exception of Save the Date, by Jen Doll, which was funny. Right now I'm reading I'll Give You The Sun by Jandy Nelson for my new BOOK CLUB!