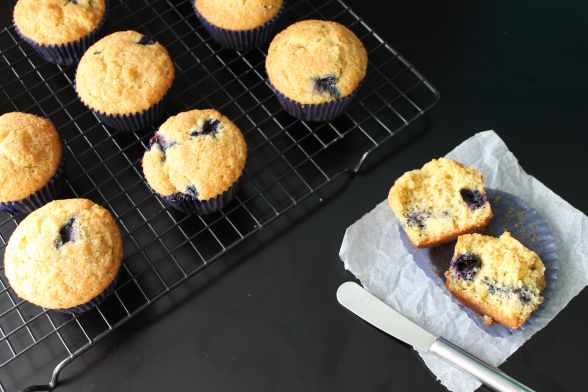 It's Messy Baker Monday!!! Today a bunch of my blogging friends have gotten together to celebrate the new cookbook from our friend Charmian Christie. I've gotten to know Charmian through various blogger events over the past year and a half, and even attended the launch party for The Messy Baker Cookbook last month. That's where I first laid eyes on this book and pretty much became instantly obsessed with it.
The book is split up up into a few different sections with names like Flaky, Crumbly, Sloppy and Smudgy, which I love. There's also a hefty section at the beginning with a lot of reference material on baking equipment, ingredients and even a dedicated chapter on pastry, which I know stresses out many bakers (myself included).
The photographs in the book are gorgeous, and make you want to make everything immediately. I was surprised that the book is pretty evenly split between sweet and savoury recipes, and I think I even have more of the savoury ones flagged with post-its. Things I can't wait to make: Roasted Butternut Squash & Sage Tart; Chicken, Cilantro & Corn Empanadas; Bacon, Cheddar & Thyme Waffles. YUM.
But when it came time to choose a recipe for today's post, I knew right away it would be these Blueberry-Lime Cornmeal Muffins. When I tried one of these at the launch party it was a revelation – – Blueberry & Lime! – – who knew?!? The recipe also includes a Lime Glaze that you dunk each muffin in while they're still warm, and a Whipped Honey-Lime Butter to spread on top. I tend to shy away from citrus based desserts, but maybe it's just lemon and orange that I have issues with, because I'm straight up addicted to these muffins, and just about did shots of the leftover glaze.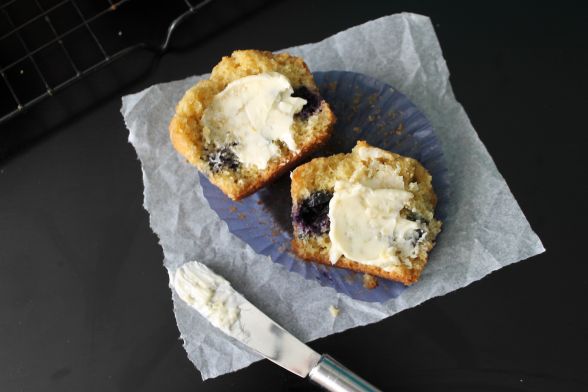 Congratulations Charmian on your amazing cookbook! Make sure to check out all the other Messy Baker Monday posts:
Blueberry-Lime Cornmeal Muffins
Source: Recipe from The Messy Baker by Charmian Christie ©2014. Published by HarperCollins Canada. All rights reserved.
Ingredients
Muffins
2 cups all-purpose flour
1 cup fine ground cornmeal
2 tsp baking powder
1 tsp baking soda
1/2 tsp fine sea salt
3/4 granulated sugar
1/4 cup brown sugar
1 egg, at room temperature
1 cup buttermilk
3/4 cup (1 1/2 sticks) melted butter
1 tsp vanilla extract
Peel of 1 lime, finely grated (with a microplace grater)
1 1/2 cups fresh or frozen unthawed blueberries (I used frozen and they turned my batter purple/blue, no big deal, they still taste freaking amazing)
Glaze
1/2 cup granulated sugar
1/4 cup fresh lime juice
Peel of 1 lime, finely grated
Whipped Honey Lime Butter
1/2 cup (1 stick) butter, at room temperature
1 tbsp honey
Peel of 1 lime, finely grated
1 tbsp fresh lime juice
Generous pinch fine sea salt
Directions
To make the muffins: Preheat the oven to 400°F.  Line 18 muffin cups with paper or parchment liners.

In a large bowl, sift together the flour, cornmeal, baking powder, baking soda, and salt.

In a medium bowl, mix together the granulated sugar, brown sugar, egg, buttermilk, butter, vanilla, and lime peel.

Add the blueberries to the flour mixture and toss to coat. Pour the buttermilk mixture over the flour mixture and, using a spatula, mix until the batter is just combined. Don't overmix.

Using a 1/4-cup scoop, fill the muffin cups. Bake for 17 to 20 minutes, or until the muffins are golden brown and a wooden pick inserted in the centre comes out clean. While the muffins are baking, make the glaze and whipped butter (if using).

To make the glaze: In a small bowl, mix the sugar, lime juice, and peel until the sugar is dissolved. Set aside. Stir well just before using.
To make the whipped butter: In a small bowl, using an electric mixer on low speed, blend the butter, honey, lime peel and lime juice. With the electric mixer on high speed, whip for 3 minutes, or until light and fluffy. Add salt to taste.

Allow the muffins to cool for a few minutes in the pans before transferring to a rack. While still warm, dip the tops of the muffins into the glaze. Turn upright, poke a few holes in the tops with a skewer, and spoon the remaining glaze evenly over the muffins. Allow to cool. Serve with regular butter or whipped honey-lime butter.
Note: These muffins will keep in an airtight container in the refrigerator for a couple of days. If they last that long. 
Disclaimer: I received a free copy of The Messy Baker Cookbook, but am legit obsessed with it, and was so excited to spread the word that Jenny and I organized this whole thing!