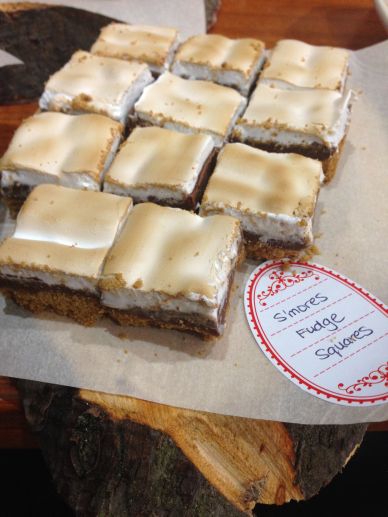 When Nicole & Geoff came over for brunch in the summer, they mentioned that they wanted to throw a big engagement party in the Fall, but not just an engagement party, a PIG ROAST! This has been something Nicole's been wanting to do for years, and they were so cute and excited as they asked me if I'd help out with desserts. At first Nicole started to describe a wedding she went to where everyone brought a pie, or other homemade dessert, but I put a stop to that immediately. Please, I said, this is my thing. I'll make everything.
Because I take pride in my bossiness when it comes to treats, I immediately vetoed the pie idea: too time consuming, can't make in advance, and a pain to slice and serve. Inspired by  a recent anniversary party that Danielle baked for, I decided we'd have squares. That may not sound that appealing, but consider this: after an afternoon of booze and roast pig, wouldn't you want to sink your teeth into the most amazing brownie you've ever had? After a few emails and phone calls, we came up with this final list: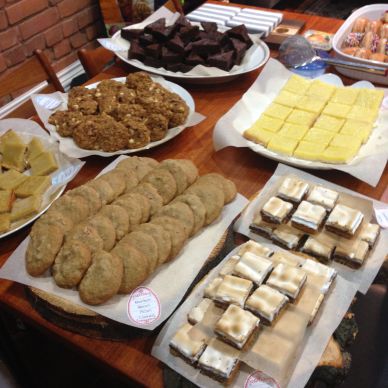 Clockwise from top:
Salted Caramel Brownies
Classic Lemon Squares
S'mores Fudge Squares
Bourbon Bacon Pecan Cookies
Butter Tart Squares
Pumpkin Spice Oatmeal Cookies
The #1 item on the list was the S'mores Fudge Squares, since last summer I brought a S'mores Pie to a barbecue at Nicole & Geoff's place, and apparently it's all anyone ever talks about.
All the squares made 9×13 pans, and I cut them into 2" squares, except the brownies which I then sliced in half on the diagonal to make triangles.  Everything was a hit, but the S'mores Squares were the star as you can sort of see in this picture from Nicole's friend Jordan, where every platter is full, except for three lonely S'mores. Luckily I had a secret stash of them set aside for Nicole & Geoff so they wouldn't miss out.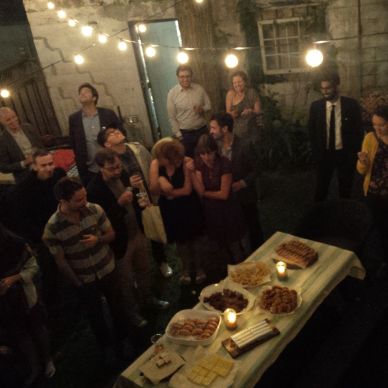 The squares are just a delicious, buttery graham cracker crust, a milk chocolate fudge filling made of sweetened condensed milk and milk chocolate chips, and then the topping, which is the key. It's homemade marshmallow fluff. It can be a bit tricky/messy to make, but it's so fluffy, puffy and heavenly. You also run it under the broiler to get a bit toasty, and it's just incredible.
Cheers to Nicole & Geoff and best wishes to them as they plan their wedding for next Spring! As a thank you they gave me the amazing new Huckleberry cookbook, which I can't wait to dive into.
S'mores Fudge Squares
Source: slightly adapted from Cookies & Cups for a 9×13 pan
Ingredients
Crust
1/2 cup (1 stick) + 2 tbsp butter
2 1/2 cups graham cracker crumbs
1/4 cup sugar
1/2 tsp salt
Fudge Filling
1 bag milk chocolate chips
1 can sweetened condensed milk
Marshmallow Fluff
3/4 cups sugar
1/2 cup light corn syrup
1/4 cup water
1/4 tsp salt
2 egg whites
1/4 tsp cream of tartar
1 tsp vanilla
Directions
For crust, preheat the oven to 350 and line a 9×13 pan with foil, and spray the foil with non-stick spray. Melt the butter in the microwave in a large microwave safe bowl, then stir in the graham cracker crumbs, sugar and salt until well mixed. Pour the mixture into the pan and press into an even layer. Bake for 10 minutes until golden brown.
Give the bowl a quick rinse, or wipe out with a paper towel. Add the chocolate chips and sweetened condensed milk, and heat in the microwave on medium power in 30 second intervals, stirring in between, until the chocolate chips are melted. Pour this chocolate mixture over the graham cracker crust.
Alright, marshmallow time. Get out a medium saucepan, and add the sugar, corn syrup, water and salt. Clip on a candy thermometer and set over medium heat.
At the same time, in a large bowl, beat the egg whites and cream of tartar until soft peaks form.
When the mixture in the saucepan reaches 240, remove from heat and ever so slowly drizzle it into the egg white mixture, whipping constantly with an electric mixer. This is a bit tricky, but you can do it.
When it's all added, whip for another 5 minutes or so until thick and glossy. Add in the vanilla and mix until combined.
Pour the marshmallow fluff over the fudge, and use an offset spatula to spread into an even layer.
Turn your broiler on high, and run the pan under there for 2 or 3 minutes. WATCH IT CLOSELY because it can burn quickly, and you just want to toast it a little bit.
Chill the pan in the fridge overnight, and cut into squares the next day, wiping the knife between cuts.
*****
A quick note on the pig, for anyone who's still reading. I had complicated emotions surrounding this, and they changed as the day went on. At first, when I arrived at the party, the pig was on the spit, rotating, crackling and smelling DELICIOUS and smoky. I took a bunch of pictures and posted them to Instagram as I had told everyone I knew I was going to a pig roast and thought it was just so fun. But when the time came for the pig to be taken off the spit and carved, I started to feel very differently. And then when I was in front of the cutting board, with the chefs telling me the different cuts  (i.e. that's the shoulder, that's the belly, that's the tenderloin) I was feeling very strange. Look, I'm not an idiot, I know where my beef/chicken/pork comes from, but buying it on a plastic wrapped Styrofoam tray at the grocery store is quite different than having an animal being cut up in front of you, with the head still attached. Let's just say that if I lived in a world where I had to hunt and kill animals to eat them, I would be a vegetarian. So thanks to you little piggy (whose name was Dexter) for providing everyone with sustenance to get through #BPEJ.