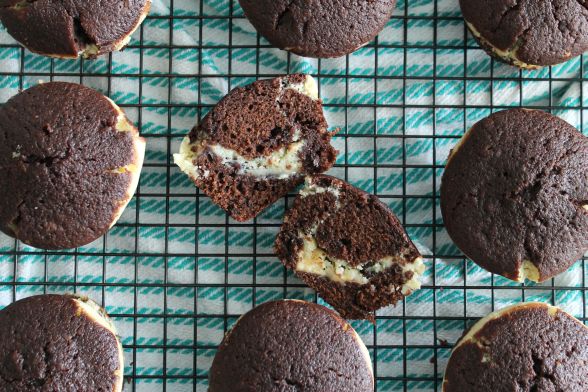 I was just saying to someone yesterday that I often find that ugly desserts are the most delicious, and these muffins perfectly prove my point. From the outside they don't look like much; kind of a naked cupcake with something mysterious bursting out the sides. But like a lot of things in life, it's what's inside that counts. And in this case, it's a white chocolate chunk studded cheesecake centre, baked into a deep, dark, coffee spiked chocolate muffin.
I love, love, loved these, and there was a bit of nostalgia at play here, as one of the first recipes I ever made off a food blog was these Black & White Cupcakes from Bake or Break back in 2008.
My only note on the recipe is that I split it in half, and still got the yield of 12 for the full batch, so it might be off.
So that brings us to the end of the Cheese section of Baked Elements! Here's a little recap of what I made and my favourite recipe from this section:
You can find the recipe for the Chocolate Cheesecake Muffins here!
More Baked Sunday Mornings here!