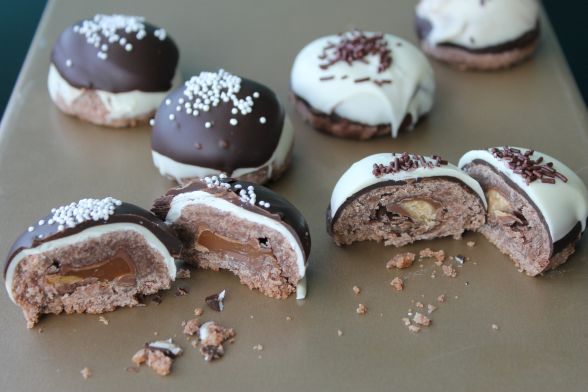 We have some experience stuffing delicious things into delicious things over here on Planet Byn. Oreos stuffed into Chocolate Chip Cookies. Cookie dough stuffed into Cupcakes. Bourbon Caramels stuffed into Spiced Cookies. So obviously I was totally in on these Candy Bar Cookies.
For this recipe, the Baked boys have you wrap cookie dough around little chocolate bars, and then double dunk them in white and dark chocolate. They suggest using Mounds (I think known as Bounty in Canada?), which is a coconut chocolate bar that I don't really care for, so instead I used their other recommendations of mini Reese peanut butter cups and Rolos.
I tried one cookie plain before dunking, and didn't find the dough all that sweet. You can see this is a strategic move, because with a chocolate bar on the inside, and a double coating of chocolate on the outside, it doesn't need to be.
The only two recipe notes I have are that I added a tbsp of whipping cream to the dough, because although the boys note the dough would be sandy, mine wasn't holding together all that well when I pressed a small piece in my hand. Also, I made a half batch, which should be 20 cookies, and only ended up with 10. I used about a tbsp and a half of dough, so I don't think they were enormous. Curious to see if anyone else in the team had the same result.
You can find the recipe here!
More Baked Sunday Mornings here!