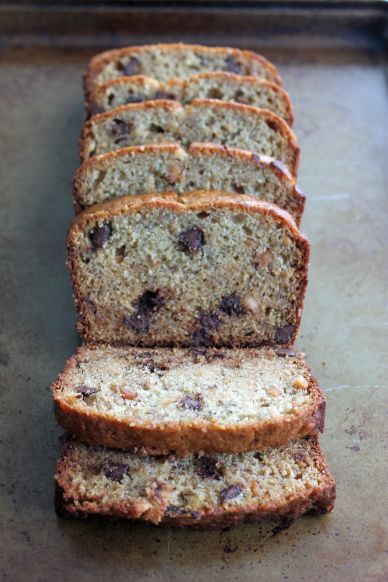 I was really excited for this week's Baked recipe as the peanut butter consumption in my life has fallen dramatically over the past two months. See, my new cubicle neighbour at work has a severe peanut allergy, so I've stopped bringing peanut butter to work, which is really sad for me, but as I don't want to be responsible for administering an EpiPen, it's really the right thing to do. Anyway, I was looking forward to making this Peanut Butter Banana Bread so much that I even made my own Crunchy Peanut Butter (which the Baked boys also include a recipe for in the book) which was super duper easy.
This loaf is nice and hydrated, not too sweet, and has a nice balance of flavours. I didn't find it overly banana-y or overly peanut butter-y, and it had just the right amount of chocolate chips and peanuts for crunch. I split my batter into two loaves so I could give one to my friend, and it reduced the baking time to about 45 minutes.
I had enough homemade peanut butter leftover to make one of the recipes I missed from this section: Oatmeal Peanut Butter Chocolate Chip Scones. As the Baked Boys point out in the book, these aren't dainty little scones to serve with tea. They're thick, dense and full of oats, peanut butter and chocolate chips, with a cookie-like texture.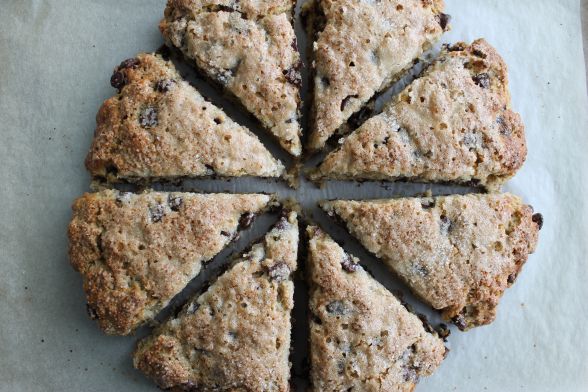 So that bring us to the end of the Peanut Butter section of Baked Elements! Here's a little recap of what I made and my favourite recipe from this section.
You can find the recipe for the Crunchy Peanut Butter Banana Bread here and the Oatmeal Peanut Butter Chocolate Chip Scones here!
More Baked Sunday Mornings here!