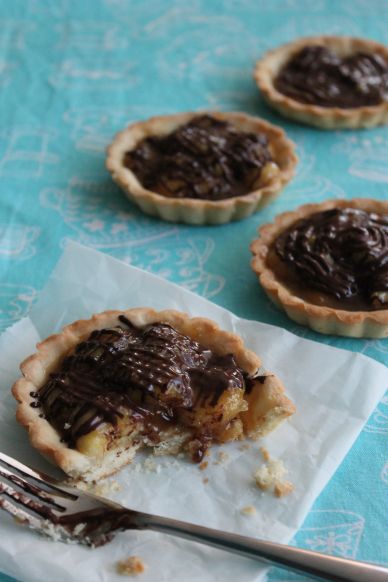 This is actually a Baked Monday Night instead of a Baked Sunday Morning, but there's another interesting twist here. See, I kind of cheated. I usually don't read anyone else's posts until I've written and posted my own, because I don't want to be influenced by other opinions on whatever we've made. But today I broke my rule, because I was a day late and curious to see what my fellow BSM'ers thought of this tart.
Turns out there were some issues with the caramel (too lumpy/grainy), the ganache (too overpowering) and the fresh bananas (some peeps are just not a fan). So I went a bit rogue here, and this is what I ended up with. I made little tartlettes and filled them with caramelized bananas (two sliced bananas sauteed with 2 tbsp butter, 1/4 cup brown sugar and a tbsp of bourbon), and then drizzled them with a bit of melted dark chocolate. I prefer caramelized bananas (or Bananas Foster) poured over vanilla ice cream, so I don't think I would make these again, but I still think they turned out pretty cute.
So that brings us to the end of the Bananas section of Baked Elements! Here's a little recap of what I made and my favourite recipe from this section.
Recipes made: Bananas Cake, Banana Whoopie Pies, Chocolate Banana Tart, Honey Banana Poppy Seed Bread
Favourite Banana recipe: Honey Banana Poppy Seed Bread
Recipes I Didn't Make: Banana Mousse Parfaits (the group made that before I caught up) and I passed on the Banana Caramel Pudding with Meringue Topping and Banana in a Blanket
You can find the recipe for the Chocolate Banana Tart (the way you're supposed to make it) here!
More Baked Sunday Mornings here!