A few summers ago, my friend Danielle and I both got really excited about these ice cream sandwiches on Smitten Kitchen.  I, personally, have some issues with ice cream sandwiches in general, mostly because my teeth are really sensitive and I can't handle the thought of biting into ice cream. Also, because I hate it when the cookie part is too hard/frozen, but the ice cream is soft, and it comes smooshing out the sides when you take a bite.  Anyway, Danielle went ahead and made that recipe, and declared that they were too much work, and the cookie part wouldn't roll out properly, and we wrote them off.
But then she came to visit last year, and we went to Bakerbots as part of our mini tour of treats (which also included doughnuts from Glory Hole and various treats from Momofuku Milk Bar), and our interest in ice cream sandwiches was renewed. This is what happens at Bakerbots: customized ice cream sandwiches, where you pick your cookie flavor and your ice cream flavor to create your own masterpiece. But the key is that the cookies are FRESH! Not frozen! So simple! So smart! (You can also order 1/2 a sammie, which is ideal, as you can see below)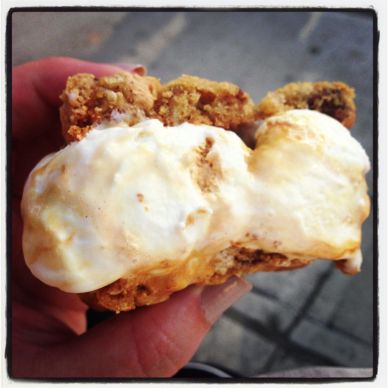 So when I saw yesterday's Chewy Chocolate Mint Cookies on our Baked Sunday Morning schedule, I knew they'd be the perfect vehicle for an ice cream sandwich a la Bakerbots, with some homemade mint chocolate chip ice cream. But there's a twist! This ice cream is flavoured with fresh mint, instead of mint extract! It's a bit of an acquired taste, but it's herby and fresh and a fun variation on what your tastebuds expect that mint ice cream will/should taste like. And there's one more thing. Since frozen chocolate chips are my nemesis in life (I once cracked a tooth on one, which eventually required a root canal and a crown, no joke), I refuse to have them anywhere near ice cream coming out of my kitchen. In this recipe, you drizzle in melted chocolate as the ice cream finishes churning, and it turns into an amazing chocolate crackle that melts in your mouth.
Of course now I want to make 67312654 other cookie/ice cream combos, and because it feels like Fall here, I might just start with these. 
Fresh Mint Chocolate Swirl Ice Cream
Source: Cook Like a Champion
Ingredients
1 cup milk (I used 2%)
3/4 cup sugar
2 cups whipping cream, divided
pinch salt
2 cups loosely packed fresh mint leaves
5 egg yolks
5 oz dark chocolate, melted + green food colouring if you want
Directions
In a small saucepan over medium heat, heat the milk, sugar, 1 cup of the cream and salt until just before it bubbles. Remove from heat, add the mint leaves and stir. Cover the pan, and let steep for one hour.
While that's steeping, get a few things organized: a)  add the egg yolks to a medium bowl, whisk to combine, and cover with plastic wrap b) pour the remaining cup of cream into a large liquid measuring cup (at least 4 cup).
Strain the mint mixture into a bowl, pressing on the the mint to extract all of the liquid. Pour the mint-infused cream back into the saucepan and heat until just before it bubbles. Slowly pour over the egg yolks, a little bit at a time, whisking constantly, then return to the saucepan and heat until the mixture reaches 170 degrees on a candy thermometer. Remove from heat and pour through a strainer into the cream, and whisk to combine. If you want to add green food colouring, now's your chance.
Cover with plastic wrap, pressing the plastic wrap directly onto the surface of the liquid, and chill overnight.
Churn in your ice cream maker, and when the ice cream reaches soft serve consistency, drizzle in the chocolate (I used a squeeze bottle, but you could just use a measuring cup with a spout).
Add the ice cream to a storage container and freeze overnight until firm.