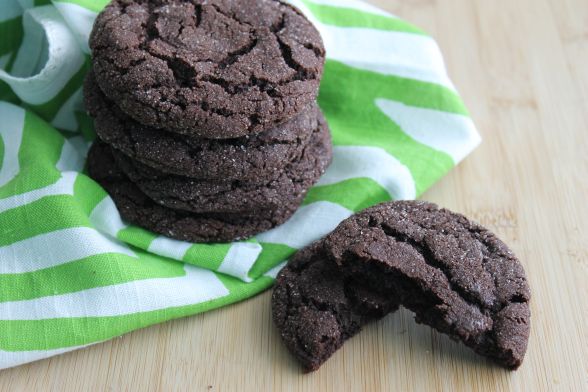 Last summer when I was recipe testing for Baked Occasions, one of my assignments was a Wintermint Cake. This was a triple layer chocolate cake, layered with chocolate mint ganache and peppermint buttercream. I made it on a scorching hot August afternoon, and I had to blast my air conditioning to keep everything cool. It felt strange to be making a chocolate mint dessert in the middle of the summer, but the cake was absolutely delicious, and I was questioning why I always save the chocolate/mint pairing for the holidays. It should truly be celebrated year-round.
Which is why I was very excited to make these Chewy Chocolate Mint Cookies this week. In contrast to last August, it's honestly been feeling a lot like Fall around here lately (I've had to physically restrain myself from cracking open a can of pumpkin), so I made these cookies on a cool night with all the windows open. Love that. These cookies are pretty straightforward to make, and include a liberal pour of peppermint extract, and a hefty dose of corn syrup, which keeps the cookies very chewy. They're also rolled in sugar before baking, which gives them a bit of sparkle and crunch, which I love. My only recipe notes are that:
I scooped the dough prior to chilling it. I'm done with recipes that ask me to chill the dough, and then scoop it to bake, because this is usually impossible when the dough is rock hard after a few hours in the fridge. I'm so in on the method I followed when making these Compost Cookies – scoop or roll the dough after mixing, then chill on a baking sheet wrapped in plastic wrap.
My cookies took closer to 15 minutes to bake, rather than the recommended 10 minutes.
Check back tomorrow, to see what I sandwiched between these suckers, because it was pretty amazing. You can find the recipe here! More Baked Sunday Mornings here!