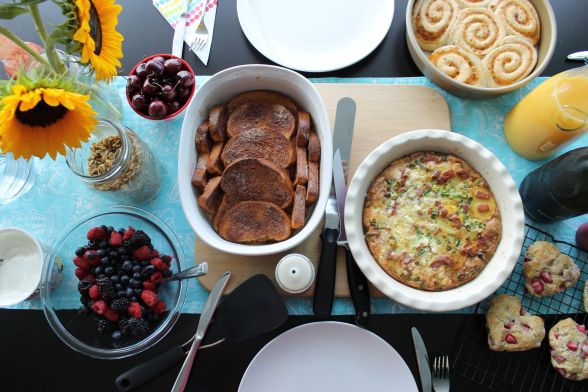 Our Gastropost Mission this week was The Art of Hospitality, which perfectly coincided with having my friends Nicole & Geoff over for brunch to toast their engagement. I thought this would be a perfect chance to make a bunch of recipes from the breakfast chapter of The Smitten Kitchen Cookbook, especially with Deb's recent announcement that she's writing another book! I have to get crackin' on all the things I still want to make from the first one! I narrowed it down to three: Cinnamon Toast French Toast, Potato Frittata with Feta & Scallions and Cheddar Swirl Buns. I rounded it out with some fresh berries, yogurt, granola and some heart shaped Strawberry Rhubarb Scones (not from the book). Everything was delicious and while I was nervous about mixing all the sweet and savoury elements, my friends reinforced to me that this is totally encouraged.
To tie this into the Gastropost Mission, I wrote about my favourite entertaining strategy that I learned from the Barefoot Contessa many years ago, which is to prepare as much as you can in advance. Especially in the case of brunch, no one wants to wake up before the sun rises to start cooking, or to be stuck in the kitchen while everyone else drinks mimosas and has fun. For this brunch I prepared almost everything the night before and all I had to do in the morning was reheat everything, rinse some berries and pop the champagne!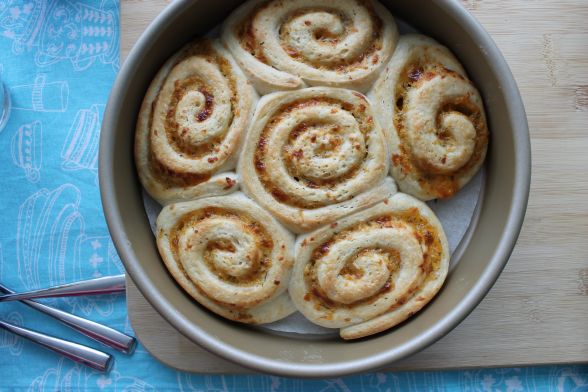 It's hard to pick a favourite, but I'm going with the Cheddar Swirl Buns, only because I've been meaning to make them for so long. You let the dough rise in the fridge overnight and then in the morning, roll them out, add the filling (cheddar, grated onion, a bit of dill), slice them up and let them rise a bit before baking. Brunch isn't complete without some carby goodness, and these buns hit the spot.
Cheddar Swirl Buns
Source: The Smitten Kitchen Cookbook (adapted a tiny bit, only because I used active dry yeast, not instant yeast and dried dill, not fresh)
Ingredients
Dough
2 1/4 tsp active dry yeast
1 cup warm milk, 110-115 degrees
3 cups flour (13 1/4 oz or 375 grams)
1 tbsp sugar
1 tsp salt
1/8 tsp freshly ground black pepper
4 tbsp (1/2 stick) butter, melted and cooled a bit
Filling
1/2 cup (1/2 medium) grated white onion
1 1/2 cups (6 oz or 170 grams) grated cheddar cheese
1/2 tsp dried dill
1/4 tsp salt
1/8 tsp freshly ground black pepper
+ 1 tbsp melted butter for brushing on top
Directions
For the dough, sprinkle the yeast over the warm milk, and let sit for 5 minutes until bubbly/foamy.
In a large bowl, whisk together the flour, sugar, salt and pepper. Add the yeast/milk mixture and the melted butter, and stir together with a spatula until the dough comes together.
Flour your counter, and dump out the dough. Knead for about 8 minutes until the dough is smooth and a little bit sticky, adding more flour as needed to prevent the dough from sticking to the counter.
Coat a clean, glass bowl with non-stick spray, and add the dough. Cover with plastic wrap and let sit in a warm spot (I preheat my oven to the lowest setting, then shut it off, and let the dough rise in there) until it doubles in size, about 2 hours. (At this point, you can also put the dough in the fridge and let it rise overnight, and pick up in the morning. Let the dough come to room temperature before rolling out).
For the filling, mix the onion, cheese, dill, salt and pepper.
Roll the dough into a rectangle, roughly 12″x16″, and spread the filling overtop, leaving a 1/2″ border. Roll up the dough as tight as you can, from the shorter end, and use a serrated knife to cut into 12 1″ rolls.
Spray two 8 or 9″ round pans, or one 9×13″ pan with non-stick spray, and arrange the rolls with about an inch or so between them. Brush with a bit of melted butter, cover, and set aside to rise at room temperature until doubled again, about 2 hours.
Preheat the oven to 350 and bake for 20-25 minutes until golden brown and the cheese is bubbling.