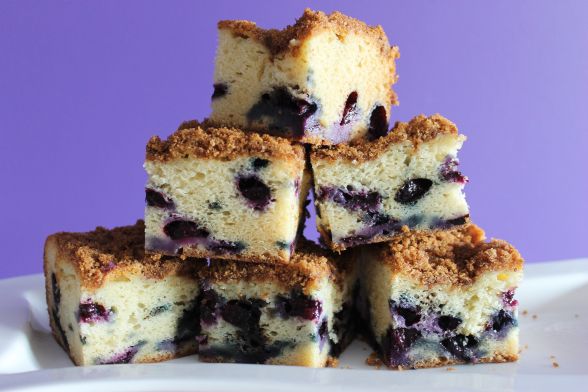 Blueberries have really gotten the short end of the stick here on Planet Byn. I'm not really sure why, as I can remember baking various blueberry cakes over the past few summers, but I haven't blogged about them, or ever done a blueberry series here. That's ending this week! It might have something to do with finally, publicly declaring my disinterest in raspberries last year, so I didn't waste any time this year trying to convince myself otherwise. I think this paved the way for my current blueberry obsession.
And what a welcome obsession it is! I've been picking them up at the farmer's market and mostly been eating them fresh, with granola and greek yogurt, and have plans for blueberry pancakes and scones this weekend. But first, I finally get to share my Aunt Shirley's Blueberry Coffee Cake recipe. I took my Mom's copy of the recipe last summer, and have thought I lost it about 85 times over the past year. Luckily I didn't, and I can finally record it here.
My Aunt Shirley is my Dad's brother's wife, and she used to own a little bakery in a small town in Nova Scotia, so you know, she has some street cred with this recipe. I think the story is that she made it once when my parents were staying with them, and then my Mom made it when they were visiting us here, and then I basically begged for it all the time. There's a heaping cup of sour cream in the mix, which goes a long way to a very, very hydrated cake. The cinnamon brown sugar topping is heavenly, and please take a minute to picture me taking a deep breath over the cinnamon and having a 60 second daydream about pumpkin, boots, scarves, crisp leaves, and other Fall goodness.
I packed up half the cake for my parents, and took the other half to my friend's cottage this weekend, where it was a very welcome addition to our breakfast table. I guarantee you'll love it!
Aunt Shirley's Blueberry Coffee Cake
Source: Aunt Shirley via an old piece of paper in my Mom's recipe filder
Ingredients
Cake
1/2 cup (1 stick) butter, room temperature
1 1/2 cups sugar
2 eggs
1 cup sour cream
1 tsp vanilla
2 cups flour
1 tsp baking soda
2 cups fresh blueberries, rinsed and dried
Topping
1/2 cup brown sugar
1 tbsp flour
1 tsp cinnamon
1 tbsp butter, room temperature
Directions
Preheat oven to 350 and line an 8×8″ square baking pan with foil or parchment paper, then spray with non-stick spray.
For cake, cream together the butter and sugar in a large mixing bowl.
Beat in the eggs one at a time.
Stir in the sour cream and vanilla.
Stir in the flour and baking soda.
Fold in the blueberries.
Pour batter into the pan and smooth out with a knife or offset spatula.
For topping, stir together the brown sugar, flour and cinnamon in a small bowl. Use your fingers to rub in the butter until the mixture is crumbly, then sprinkle overtop of the cake.
Bake for an hour (my Mom's note is 40 minutes, but it took longer in my oven), or until a toothpick inserted into the centre of the cake comes out clean.