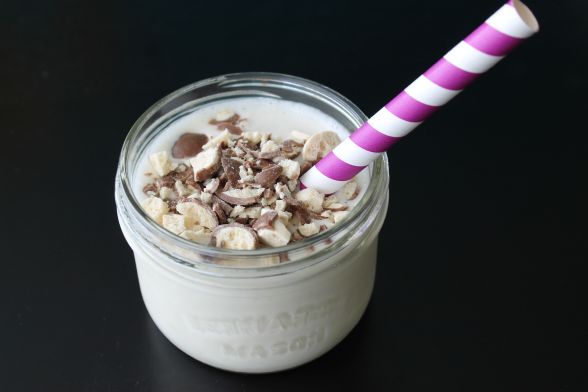 The rest of the team is making a semifreddo today, which I'm passing on for two reasons:
It contains raw eggs. My friend Carole told me the likelihood of you-know-what contamination is very rare from the eggs we buy/eat from grocery stores, but it still freaks me out a little bit.
My freezer is currently full of two kinds of popsicles, one kind of ice cream and a tub of fro/yo, so space is at a premium.
I still wanted to make something from the Malt chapter of Baked Elements, as it turns out the group made all the other malt recipes before I joined in, with the exception of today's semifreddo, and one other malt recipe that's coming up on the schedule next week. I honestly picked the easiest, quickest one, which is this Malted Vanilla Milkshake. It's a super simple blend of milk (2% in my case), ice cream (fro/yo in my case), malt powder, vanilla bean paste, and some crushed malt balls on top. I liked the experience of this milkshake, because most of the malt recipes in Baked Elements pair it with chocolate, which can easily overpower it. In this case, the malt powder really shines through, and the milkshake is nice and nutty and malt-y. Perhaps a shot of bourbon would be a good addition, like the other milkshake we made?
You can find the recipe here!
More Baked Sunday Mornings here!