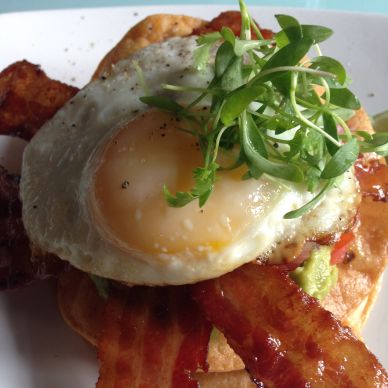 I was so happy to realize that this is my one year anniversary of writing these monthly recaps! I think I shall continue to do so. My friend Kathleen told me she loves reading them (Hi Katy!), and I like looking back at my month and seeing what I was up to. Now that I've been doing this for a year, I can also see what my 2013 self had going on. I love that last July I met up with Heather, Jenny, Meg and Rhonda for dinner for the first time, and now that happens pretty much on a monthly basis. Case in point, my first entry for this month:
Other non-foodie things I was obsessed with this month:
Beyonce. Jay Z. On The Run. I could honestly write 5,000 words on the experience of having a VIP seat to this concert, and getting Alexis & Kristine SPONTANEOUSLY UPGRADED TO SIT WITH ME, but let's just say it was mind-blowing, and that when I made eye contact with Beyonce, I felt it in my soul.

I read an awesome book at the beginning of the month that I feel you need to know about: Astonish Me by Maggie Shipstead. It's set in the world of ballet, and that's all you need to know. I also read The One & Only by Emily Giffin and All Fall Down by Jennifer Weiner.

BIG NEWS: I'm starting a new Book Club with my friends from Those Girls. We're so excited. The other Book Club I was in has been dying a slow, painful death for the past year, so the organizer finally put it out of it's misery. Our first pick is

Big Little Lies

by Liane Moriarty, and I just bought a copy today. We're all going to read it in August and meet to dish about it in September.