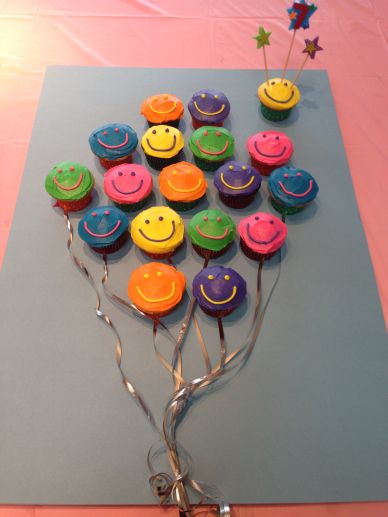 A few months ago, my little niece Charlotte told me she wanted a Penguin Cake for her birthday. I had started to think a little bit about how I would execute this, when my brother asked me a few weeks ago if I would make her cake this month for her birthday party with her friends, instead of for her family party on her actual birthday in August. I was all – sure! – she still wants a penguin, right?
Turns out she changed her mind and wanted a swan cake. Then changed it again and wanted a frog cake. But not just a frog, a frog holding a balloon! And then the final verdict came via an email from my sister-in-law: "Lots of balloons with faces on them and the balloons all different colours". BOOM.
This was Charlotte's easiest birthday cake to date! No Wilton pans, no fondant butterflies, nothing 3D. I normally write a lengthy "here's how I did it" list, but it was truly so simple:
I made a dozen of my favourite vanilla cupcakes (recipe from Joy the Baker Cookbook) and a dozen

chocolate cupcakes

(recipe from Annie's Eats, as recommended by Danielle, and they were perfect).

I made a full batch of My Favourite Buttercream, divided it into six bowls, and used my Americolor gels to tint it. I iced four cupcakes (two vanilla, two chocolate) in each of the six colours.

I piped smiley faces on top with a small round tip.
That's it! I picked up a foam board at the dollar store, brought scissors, tape and ribbon with me, and set the whole thing up at the art studio where her party was held. Charlotte loved it, and she and her little friends could each choose the colour and flavour they wanted.
Charlotte's Previous Birthday Cakes:
6th (Castle Cake)
5th (Rainbow Cake)
4th (Blue's Clues)
3rd (Big Greeny-Blue Cake)
2nd (Elmo)