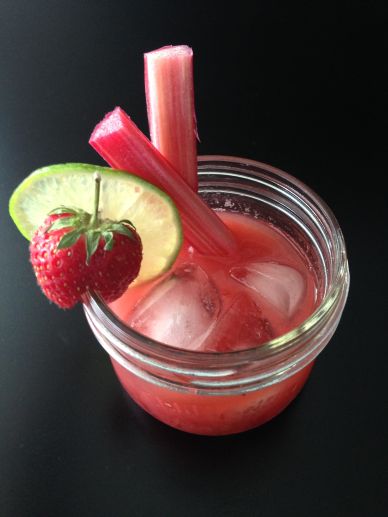 Last week, our Gastropost Mission was all about Perfect Pairings. Obviously you can see where this is going!
Here on Planet Byn, there is no better summer pairing than Strawberry & Rhubarb. If they were a celebrity couple we'd call them Strubarb. Or Rhuberry. I can't decide which one I like better! This was the perfect chance for me to try this Strawberry Rhubarb Jam Margarita.
I know it sounds odd: jam in a cocktail? But it actually makes so much sense! I first became intrigued by jam cocktails back in December when Megan talked about a Pear Jam Smash – mixing homemade pear jam with pear infused vodka, ginger liquor and soda water. The jam basically takes the place of the simple syrup, and if you're like me, you have homemade jam in the fridge at all times during the summer.
In this case, I mixed my strawberry rhubarb jam with lime juice, cointreau and tequila and it was sweet & sassy. The fruit flavour came shining through, which is sometimes problematic when you're trying to make fruit infused simple syrups, and the colour was a summery hot pink. I'm loving this idea, and I can't wait for Peach Jam Margaritas next month!
Strawberry Rhubarb Jam Margarita
Source: Stir & Scribble
Yield: 1 cocktail
Ingredients
2 tbsp strawberry rhubarb jam (read this post for how I make my favourite skillet jam)
1 tbsp lime juice
1/2 tbsp cointreau
2 tbsp tequila
+ soda water if needed (this makes one very small, potent cocktail, which I loved, but you might find a bit sweet or too boozy. Adjust with soda water as needed)
Directions
Stir or shake everything together and pour over ice. Garnish with lime slices, rhubarb sticks and strawberries if you feel fancy!