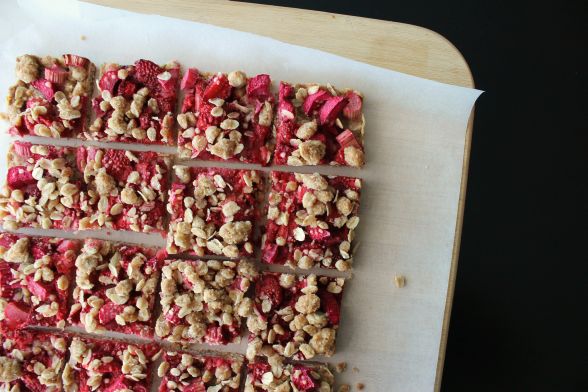 We had a big day here on Planet Byn last week. After exercising remarkable restraint for a whole month, I brought treats into my new office for the first time.  Based on some life advice from my baking spirit guide (Danielle: "You can't show up on the first day with a six-layer cake"), I decided to go with these Strawberry Rhubarb Crisp Squares. Simple, seasonal, delicious.
I handed out a few to some people around me, and then left my container in the designated spot for leftover food that my new friends told me about. I heard a few "who made these?" and "are there any more of these?" and within an hour, they were gone. I exhaled. I really don't feel I'm being overly dramatic here; I was honestly worried that people might not be into baked goods. And then what would I do? Despite one co-worker with a severe nut allergy, I think I'm good to go!
So these bars are insanely easy and SO GOOD. If you're a person who thinks the crumble topping is the best part of a fruit crisp, this is the square for you. Deb even includes instructions on how to mix everything up right in the pan, although I didn't do that since I needed to cut and remove the squares to bring to work.  I can't think of a better way to enjoy these last few weeks of rhubarb goodness.
Strawberry Rhubarb Crisp Squares
Source: Smitten Kitchen
Yield: 16 squares, many happy co-workers
Ingredients
1 cup oats
3/4 cup + 2 tbsp flour
1/2 cup brown sugar
1/2 tsp salt
6 tbsp (3/4 stick) butter, melted
1 cup diced strawberries
1 cup diced rhubarb
1 tbsp sugar
1 tbsp lemon juice
1 tsp cornstarch
Directions
Preheat oven to 375 and line an 8×8″ square baking pan with foil. Spray the foil with non-stick spray.
In a medium bowl, stir together the oats, flour, brown sugar and salt. Add the melted better and stir until well combined, and the mixture is crumbly. Set aside 1/2 cup of the mixture, and add the rest to the pan, and press it into an even layer.
In the same medium bowl, toss together the rhubarb, strawberries, sugar, lemon juice and cornstarch. Pour over the crust and spread into an even layer. Crumble the reserved 1/2 cup of the crust over the top of the fruit.
Bake for 30 minutes until bubbly and amazing. Let cool completely and then cut into squares.