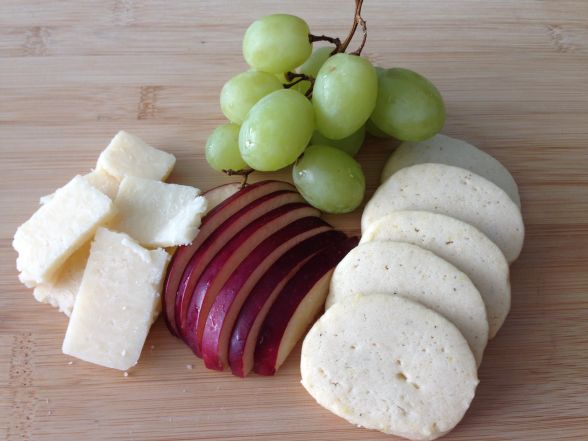 Our assignment this week was a savoury shortbread cookie with three flavours: lemon, pecorino cheese and black pepper. This actually didn't seem strange to me, as Barefoot Contessa has a recipe in one of her books for a parmesan thyme savoury shortbread, which she refers to as a cracker. My more pressing concern was all the lemon up in this recipe (I'm not the biggest citrus fan) and the full tablespoon of cracked black pepper.
I wimped out a little bit and put about half the amount of lemon zest and a quarter the amount of black pepper in the dough. I also substituted parmesan for pecorino, because I had it in the fridge. I had my usual problem with slice and bake cookies, which is that I can never seem to roll my dough into a nicely shaped log, and then it usually has a flat edge from where it sat in the fridge. Anyone have any insights on how to deal with that?
This is a weird little cookie. Even with the fraction of the lemon zest I added, I found the lemon was the overpowering flavour. I couldn't taste the parmesan at all, but it probably just added a bit more of a salty edge. I also thought they were a bit too sweet. I didn't really like them on their own, but channeling Ina, I considered them as a cracker, and paired them with some green grapes, sliced apple, and honey cheddar. They were great this way, and now I can see them as part of a cheese board or platter.
You can find the recipe here!
More Baked Sunday Mornings here!