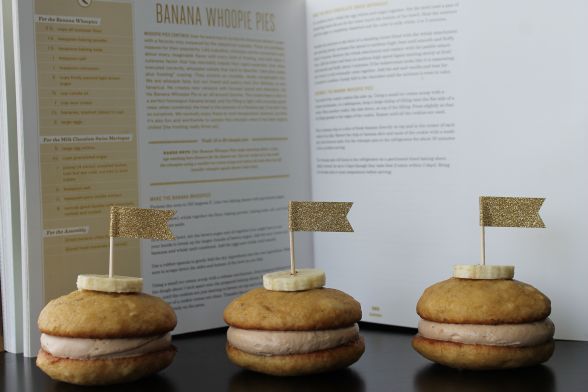 I think I've made every whoopie pie recipe that the Baked boys have included in their previous cookbooks. I made the Red Velvet ones for my sister-in-law back in 2010, the Pumpkin version as part of Thanksgiving dessert in 2011, and the Chocolate Whoopie Pies in 2012. Guess 2013 was a Whoopie Pie free year, but they're back on Planet Byn for this week's Baked Sunday Morning.
I was excited to tackle this recipe for one main reason: the Milk Chocolate Swiss Meringue Filling. I've only made a swiss meringue frosting once before, and it was for the Chocolate Whoopie Pies I linked to above. I re-read that old post and remembered my main issue with it from back then: too much butter. I felt (and my brother confirmed) that it just tasted like whipped butter. Not really ideal. So I compared that recipe with the one on deck for this week, and found they are exactly the same, but with the addition of milk chocolate. I decided to proceed, but to see if I could reduce the amount of butter and not have it affect the texture/structure of the icing.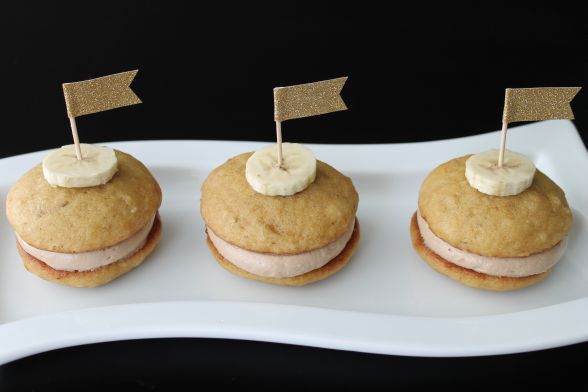 The way you make swiss meringue frosting is to heat egg whites and sugar over a double  boiler. Once the sugar dissolves (I find the easiest way to test this is to actually just to stick a clean finger in, and then rub it between my fingertips to see if it's still gritty), you remove it from the heat and whip for 5 minutes, before adding in room temperature butter. I added half the amount of butter that the recipe calls for, then the required amounts of vanilla, salt and melted milk chocolate and whipped again. The reduced amount of butter didn't affect the structure of the icing: it was still shiny and smooth, didn't break, and didn't have that overwhelming buttery flavour.  I'll always be loyal to My Favourite Buttercream Frosting, but it's nice to know I can make this too.
There's not much to add about the banana cookies: they're very simple to make and I used one bowl and a whisk to mix them up. I liked the milk chocolate filling in them, but I think the peanut butter swiss meringue frosting variation in Baked Explorations would also be great.
You can find the recipe here!
More Baked Sunday mornings here!