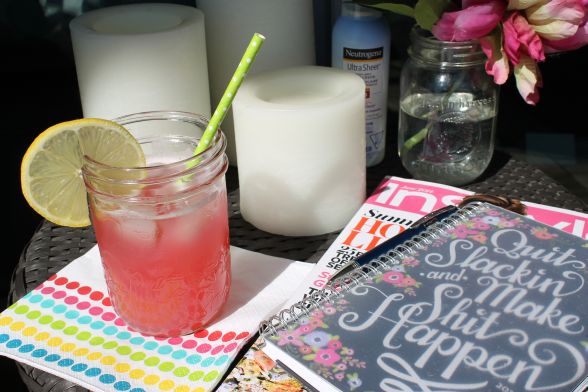 Summer has arrived in all it's hot, humid, sweaty glory. After complaining all winter about the polar vortex, I have vowed to embrace this summer, and any time where I start to complain about something heat related, I flash back to every freaking layer of clothing I had to put on back in January, and that shuts me up pretty quickly.
Last weekend I had myself a little Sunday afternoon happy hour on my balcony with a frosty beverage, magazine, sunscreen and my planner (yes, I still use an actual planner). I also found an old CD in my car called "Byn's Summer Hit Mix 2001", so I dragged up my little boom box from my storage locker, and put it on blast*.  I only lasted for about half an hour in the sun, but it was all I needed. It totally recharged my batteries for the week, and I made a mental note to try to slow down on Sunday afternoons, as I'm often scrambling to get ready for the week: doing laundry, ironing, grocery shopping, cleaning and just general life maintenance.
I usually make some type of boozy rhubarb concoction each summer, which can be traced back to Gwendolyn's Foxy Lady Rhubarb Cocktails. Last year I infused some vodka with strawberries and rhubarb, and that was a neat party trick for sure. This year I remixed the rhubarb syrup I usually make, and added a strip of lemon peel and some vanilla bean paste, after seeing Cheri's post on Kitchen Simplicity. It was unreal. I topped it with sparkling water, and then instead of adding vodka, I went with bourbon, after Gwendolyn and I were chatting a bit about rhubarb/bourbon cocktails on Twitter. I can't stress enough how well it paired up. This is my go-to summer cocktail of 2014 (so far!).
*Lots of Missy Elliot, Ludacris and Destiny's Child, in case you were wondering.
Rhubarb, Lemon & Vanilla Bean Simple Syrup
Source: Kitchen Simplicity
Ingredients
4 cups chopped rhubarb
1 cup sugar
2 strips of lemon peel (use a vegetable peeler, and try not to get too much of the white pith)
1/2 cup lemon juice
1/2 cup water
1 tsp vanilla bean paste
+ sparkling water
+ booze of choice (bourbon, vodka, I bet tequilla would be outstanding here as well)
Directions
Add the rhubarb, sugar, lemon peel, lemon juice, water and vanilla bean paste to a large saucepan. Bring to a boil, then lower heat to simmer, and let bubble for about 10 minutes. The rhubarb will totally break down.
Let cool for half an hour or so, then pour through a fine-mesh sieve (I put a bowl on top and a can to weigh it down and let it sit overnight in the fridge so it could drain into a big measuring cup).
Mix rhubarb syrup, sparking water and booze to taste. You can remove the lemon peel and eat the strained rhubarb with yogurt, which is amazing.