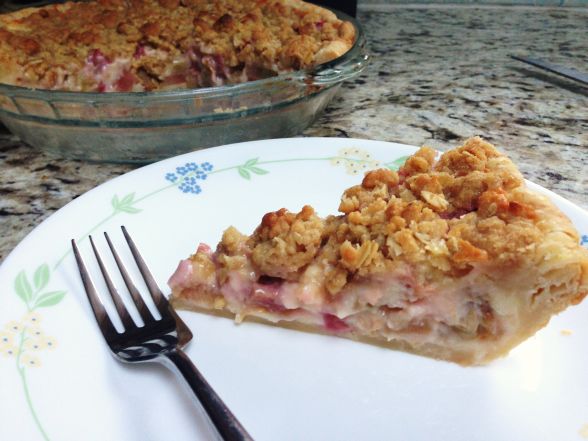 I've been waiting a whole year to make this pie! This is what happens when your baking BFF lives on the West coast and her rhubarb season comes AFTER yours. By the time Danielle made this last summer and raved about it to me, rhubarb season was finished in Ontario, so onto my Pinterest board and into my dreams it went.
This week we're having a little Rhubarb Remix here on Planet Byn. I realized the first three rhubarb recipes I made this year were slight twists on things I've made in the past. For example, last year I made a pretty basic, yet amazing, Strawberry Rhubarb Crumb Pie. This Rhubarb Custard Pie features the same crust, and a crumble topping, but the Switch-Up* comes in the filling: instead of using all fruit, you mix up a dreamy, creamy Greek yogurt based filling and fold in diced rhubarb.
The end result is ah-may-zing.  The tartness of the rhubarb and the creaminess of the filling (something I normally don't like in citrus/creamy desserts) was totally working for me here. Not to cheat on rhubarb or anything, but I'm sure this would also be incredible with strawberries or peaches, when that time comes.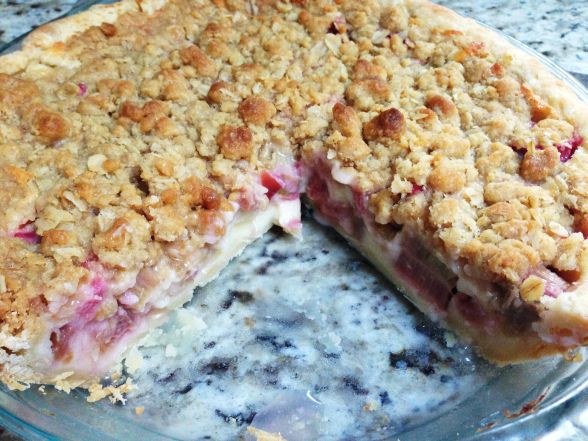 *Who remembers the Switch-Up from Anna Olson's Sugar show? My favourite!
Rhubarb Custard Pie
Source: Topping & Filling from Sugarcrafter, Crust from Smitten Kitchen
Ingredients
Crust
1 1/4 cups flour
1/2 tbsp sugar
1/2 tsp salt
1/2 cup (1 stick) butter, cold, cubed
1/2 cup ice water
Filling
2 eggs
6oz vanilla Greek yogurt
1 cup sugar
4 tbsp flour
3 1/2 cups chopped rhubarb
Topping
1/2 cup flour
1/2 cup brown sugar
1/4 cup oats
1/2 cup (1 stick) butter, can be cold or room temp
Directions
I like to begin with a nice clean kitchen when making a pie, so if you're me, clean all the clutter off the counter and take a nice deep breath, and get out a pie plate and your rolling pin.
Let's start with the crust. Add the flour, sugar and salt to a big bowl, and whisk together. Add the butter, and use a pastry cutter to cut it in, until the butter is the size of peas and the mixture is crumbly. Start by adding 1/4 cup of cold water, and stir together with a spatula until the dough starts to come together. Add more ice water a tbsp at a time, until all the floury bits are incorporated. Knead the dough very briefly with your hands until it all comes together, then shape into a disc and wrap in plastic wrap. Stick it in the fridge to chill for about an hour.
For the crumble, whisk together the flour, brown sugar and oats in a medium bowl. Add the butter and if cold, cut in with a pastry cutter or a fork, or if warm use your hands. Chill until the crust is ready to go.
For the filling, whisk the eggs together in a large bowl. Add the yogurt and whisk again. Add the sugar and flour and whisk again until smooth and combined. Add the rhubarb and stir to coat.
Preheat the oven to 400. Roll out your dough on a well-floured counter, then gently add to your pie plate, trim the edges and crimp if you like.
Add the filling to the crust, and crumble the topping over top.  Place on a baking sheet, and bake for 15 minutes, then turn the oven down to 350 and bake for another 35-40 minutes until the top is golden and bubbly. (If it gets too brown, too fast, just cover lightly with foil.)
Let cool completely, then chill for 2 hours before serving.