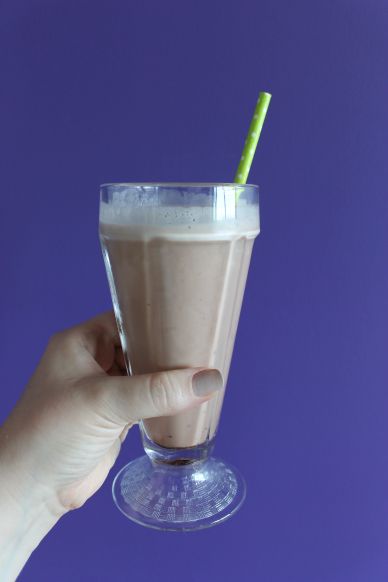 I was pretty excited to make this milkshake, as I thought it would be a nice break from some of the more time-consuming recipes we've made over the last few weeks (i.e. Bananas Cake, Turtle Thumbprint Cookies) for Baked Sunday Mornings. What could possibly go wrong with a milkshake?
Well, it turns out the milkshake wasn't a problem, but I has serious issues with the Homemade Chocolate Syrup we needed to make to go in it.  The instructions say it can be used straight from the fridge, so I poured mine into a little mason jar and set it in the fridge to cool and use later in the day. When I pulled it out, it was rock hard. I had to heat it a bit in the microwave, and it kind of turned gritty and lumpy. I'm not quite sure what happened there. I followed the instructions, but my guess is that I boiled it for too long.
I also made some substitutions for the milkshake itself: I used vanilla frozen yogurt instead of ice cream and almond milk instead of cow's milk. But let me tell you, even with some chunky chocolate syrup, this milkshake is a winner. It's the bourbon, y'all (said in Southern accent). I gulped this one down in no time!
Note: It is not essential to the success of the recipe that your nail polish matches the milkshake (Essie in Sand Tropez, in case you needed to know).
You can find the recipe here!
More Baked Sunday Mornings here!