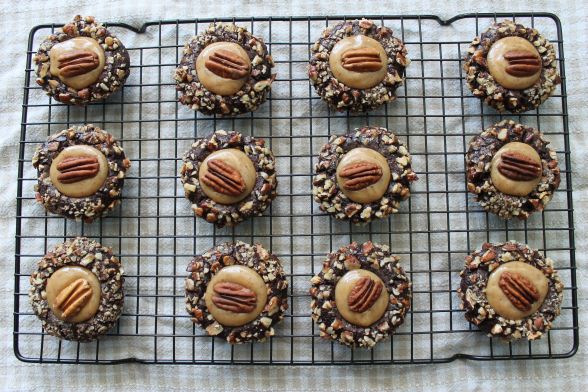 Last week, the Baked boys announced that their new book (their 4th!) is called Baked Occasions and will be out on October 7th! So I think I can safely announce now that this is the top secret project I mentioned back in February. I recipe tested for this book!!! It was an amazing experience and I'm sure it's all I'll be talking about as we get closer to publication date.
Because the new book will be out in just 4 months, the lovely ladies who run our Baked Sunday Mornings group (which is how I got involved in testing for the new book) have condensed the schedule so we'll be baking/posting every week so we can finish in time for the new book's release. I'm really going to try my best to keep up, especially since I started on Baked Elements really late. This morning I made these Turtle Thumbprint Cookies, and I have many thoughts and feelings on them. First of all, this is one fussy little cookie. I know this from my past experience with thumbprints, but this one has many extra steps. These are my thoughts:
Instead of letting the dough chill for one hour after mixing, I let it chill for about 20 minutes while I toasted and chopped the nuts, because I was nervous that the dough would be too hard if I let it chill too long (this happens to me all the time…why do recipes tell you to chill the dough overnight, and then scoop it from there…it's always too hard) and would then crack when I tried to put the thumbprints in them. My strategy worked great (no cracks).
Because I was nervous that my thumbprints would lose their shape (something that happened to me when I made these) I chilled them for 30 minutes before baking, after I had rolled the dough into balls, dipped them in the egg white and rolled them into the chopped, toasted pecans (see told you they were fussy).
I was not a huge fan of the caramel filling. It was a weird cross between dulce de leche (because it has condensed milk in it) and a regular caramel sauce. Mine started to bubble really quickly and I got all these little brown bits in my caramel. I strained the caramel as the recipe instructions suggest, but it didn't filter them all out. No big deal really, and it still tastes great, but I think I would a regular caramel sauce if I made these again.
I also made my cookies a bit bigger than suggested (mostly because they were fussy enough…I didn't feel like filling little tiny thumbprints) and used the pestle from my little mortar and pestle set to make nice big thumbprints. I made half the recipe and got 13 big cookies.
I LOVE how these cookies look! The actual cookie part is almost brownie-esque, but a little on the bitter side. I feel like a sprinkle of sea salt would go a long way on these as well. I think we have our first contender for Champagne & Cookies!
You can find the recipe here!
More Baked Sunday Mornings here!