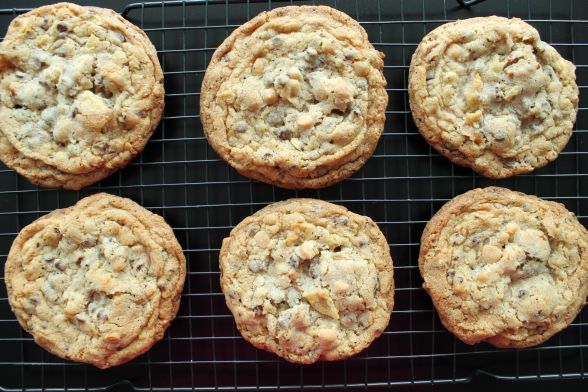 I've been obsessed with Christina Tosi and Momofuku Milk Bar for years now. I was trying to think of the first time I heard about Crack Pie, and I can't pinpoint it exactly, but lucky for us, the internet provides evidence of this obsession in the form of a comment I left on Gwendolyn's blog back on August 20, 2010. My friend Nicole gave me the Momofuku Milk Bar cookbook for Christmas when it came out in 2011, but I was so intimidated by the recipes, I never actually tried to make any of them, and instead devoured the stories about Christina's life and the origin story of Milk Bar.
My obsession died down a bit until last summer, when the rumours finally came true, and Milk Bar opened in Toronto. Nicole and I were there the first week, scooping up Compost Cookies, Cornflake Marshmallow Cookies and slices of Crack Pie like they were going out of style.  Christina was in town for a few launch events, but I kept missing her.
Fast forward to this year, and the TIFF Food on Film festival. Christina would be in Toronto to introduce a screening of the original Willy Wonka and the Chocolate Factory movie. How perfect is that?  Obviously I was there with a bunch of my foodie friends. Turns out the movie is as weird as I remember, but the highlight of the night was listening to Christina. She's smart, passionate, driven and focused, and listening to her speak, you have no doubt that she'd be a success at anything she put her mind to.
I felt like I was listening to a kindred spirit as she talked about her love of baking, and the magic she still feels even after making it her full-time job.  And she still bakes in her spare time!  I just love that.  It was so great to hear about her sources of inspiration, first foodie memories, and guilty pleasures (DQ Blizzard with Cookie Dough & Oreos!).  After her interview, my girls and I were all just chatting in the lobby of the Lightbox for so long that we caught Christina and her assistants on their way out. We introduced ourselves to her and told her how much we love her, and love baking. She told us to come by Milk Bar the next day because they were launching their soft serve ice cream, which is a regular feature at the Milk Bar locations in New York.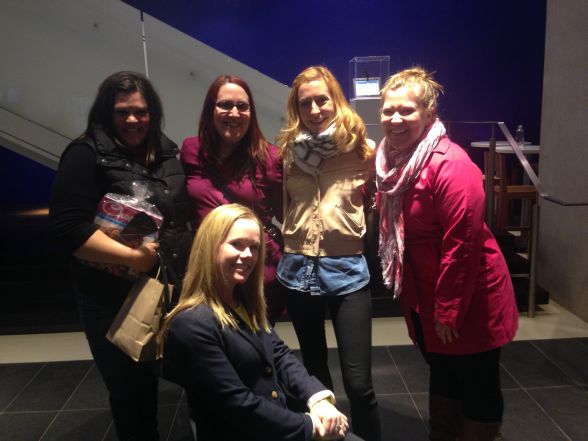 We returned to Milk Bar the next day and got to try both flavours: Cereal Milk with Cornflake Crunch and Double Double, which is inspired by Tim Horton's. We got to hang out with Christina again (how lucky are we?!) and chat about everything from the ingredients she doesn't like baking with (raisins!) to our mutual distaste for creamy citrus desserts.  She's so down-to-earth, fun and normal, but so impressive, running her own empire and managing almost 100 employees. I love her.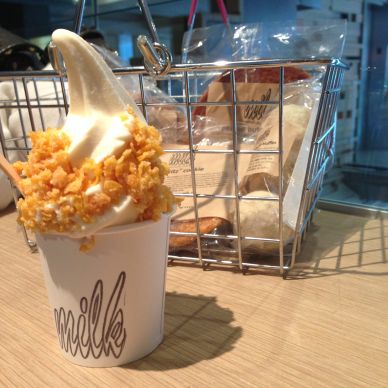 I was so inspired after all this excitement that I re-read the entire Milk Bar Cookbook and decided it was high time to get over myself and dive into a recipe. First up: Compost Cookies. This is a cookie with everything from chocolate chips and ground coffee to potato chips and pretzels. You also have to mix up a graham cracker crust to crumble into the cookie dough. I was a bit nervous that the cookies wouldn't turn out, as the book says you must use a stand mixer, but I can happily report that I followed the recipe exactly, but used my hand mixer, and they turned out perfectly. Huge flat cookies that are crispy around the edges and chewy in the middle. These were a total hit with everyone I shared them with. I can't wait to make so much more from this book. It's about time!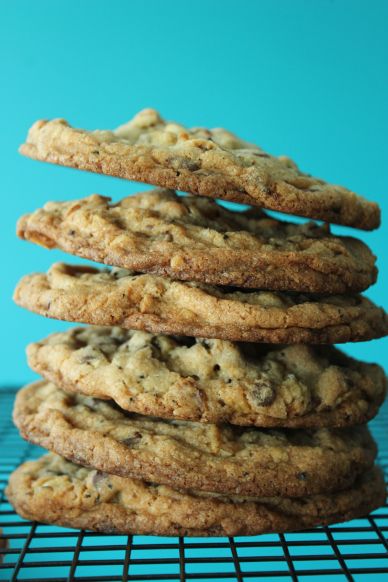 Compost Cookies
Source: Momofuku Milk Bar by Christina Tosi
*Note that I used my kitchen scale to make these as I wanted them to be perfect, so I've listed everything in grams here as well*
Ingredients
225 g butter, room temperature (1 cup or 2 sticks)
200 g sugar
150 g light brown sugar (Christina told me she does NOT like dark brown sugar, because of the strong taste of molasses!)
18 g corn syrup
1 egg
1/2 tsp vanilla
225 g bread flour
2 g baking powder
1.5 g baking soda
4 g salt
150 g mini chocolate chips
100 g mini butterscotch chips (I found these at Bulk Barn)
85 g Graham Crust (separate recipe, see below)
40 g rolled oats
5 g ground coffee (I freshly ground some coffee beans in my grocery store)
50 g potato chips (I used Miss Vickie's plain kettle chips), broken up a bit by hand
50 g pretzels (I used mini twists from Bulk Barn), broken up a bit by hand
Directions
In a large bowl, combine the butter, sugar, brown sugar and corn syrup and cream together on medium-high speed for 2-3 minutes. Scrape down the sides of the bowl, add the egg and vanilla, and mix again for 7-8 minutes. (The long creaming process is essential to the success of the recipe, as Christina explains in the book. I actually timed it to ensure I did it for long enough. Don't skip this!)
Add the flour, baking powder, baking soda and salt. Mix just until the dough comes together, no longer than one minute. I actually mixed the dry ingredients in by hand, then used the hand mixer just for a few seconds.
On low speed, add the chocolate chips, butterscotch chips, graham crust, oats and coffee, and mix just until combined. Add the chips and pretzels and mix again.
Line a baking sheet or plate with parchment paper. Use a 1/3 cup measuring spoon to scoop out the dough and place it on the prepared pan/plate. Press down the tops of the cookies slightly. Cover the pan/plate tightly with plastic wrap and chill for at least 1 hour. You are not supposed to bake the cookies from room temperature, or they won't turn out.
When you're ready to bake, preheat the oven to 375, and line a cookie sheet with parchment paper. Place the cookies on the sheet, at least 4″ apart – I could fit 6 cookies on one sheet. Bake for 18 minutes – the cookies are going to spread quite a bit, and turn brown around the edges.
Let the cookies cool completely on the pan (although obviously you should eat one warm, it's a transcendent experience) and then store in an airtight container.
Graham Crust
Ingredients
1 tbsp butter
1 tbsp whipping cream
47.5 g graham cracker crumbs
5 g milk powder (I found this at Bulk Barn)
6.25 g sugar
pinch salt
Directions
In a medium sized microwave safe bowl, melt the butter in the microwave. Whisk in the whipping cream. Add the graham cracker crumbs, milk powder, sugar and salt  and stir together with a fork until the mixture is crumbly.