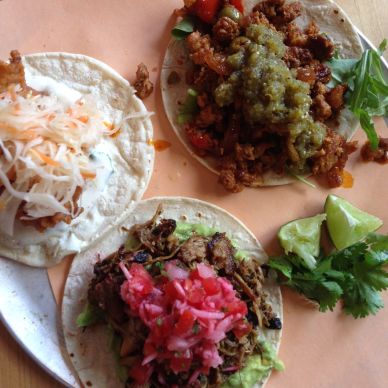 Well, this month started off with your friend Byn dodging a huge bullet over here: JURY DUTY. Thank goodness for that because it left the month open for lots of fun:
I took a little lunchtime adventure to Tabule on Queen East as Carole's been raving about their falafel for a while now. We met up with our girl Libby and shared a platter of hummus, tabule and labni, and then falafel, garlic shrimp and ma'anek (spicy sausage). I loved everything, especially the falafel of course. A little too far from my office for lunch, but I'll definitely go back for dinner.
This Strawberry Lime Mango Crisp was posted on Oh She Glows early in the month, and I've already made it three times with different fruit combinations.  It's basically baked fruit with homemade coconut oil granola on top, and no refined sugar. I eat it for breakfast with yogurt (un-veganizing it in the process) and it's so, so good.
Nicole came over for dinner and we had another meal from the Oh She Glows cookbook. We had the Falafel Bites with Tomato Cucumber Salsa and Lemon Tahini Dressing, the Warm Nacho Dip, and the Vegan Chocolate Fudge Cake. The Falafel Bites were the best, the Nacho Dip was weird (why does it call for marinara sauce? wouldn't it make more sense to use salsa?) and the Fudge Cake was okay. I've also made the Everyday Green Juice from the book a bunch of times and I love it.
I was in town for the May long weekend, but felt like I was at a cottage when I ate at Big Crow with my friend Molly. Big Crow is a cozy little wooden shed type situation behind Rose & Sons. We feasted on Baby Back Ribs that came topped with sage pesto and pear. Sounds so weird but they were INCREDIBLE. We had some potato salad and 'slaw as well, and a steel head trout poke app that sounds so weird, but I actually ate it  and liked it. (I claim to hate ceviche, but as Carole would reprimand me: don't say you hate it until you've tried it)
Controversial opinion alert: I have found the best burger in the financial district and it is NOT at Richmond Station. I've had the RS burger, and it's so raw, it's basically tartar (see Carole, I did try it, so I can confidently say I didn't care for it). Anyway, I had a long overdue catch-up dinner with my friend Jenn at Drake One Fifty, and their burger is too good for words. Just trust me. Get it. Jenn had the potato pizza (carbsoncarbs) and loved it as well).
I had a truly amazing time last Saturday with my FBC girls on a little road trip to the Elora Bread Trading Company to see our friend Calantha, who opened the bakery with her business partner Sonia this year. It was so inspiring to see how their hard work paid off. The bakery sells artisan breads that they make onsite, and they are phenomenal. I brought home a County Loaf, a Honey Oat Loaf and a Blue Cheese & Walnut loaf. Everything is sourdough based, shaped by hand and made with love. If you're looking for a little day trip this summer, I highly recommend the short drive to Elora, just north of Waterloo. (Heather wrote a very sweet post on the trip, and our friendship here)
Speaking of Waterloo, we hit up Taco Farm for a late lunch after our Carb Safari, and loaded up on guac, queso fundido and tacos. I had a Fish, Carnitas and Chorizo taco, and I would legit drive to Waterloo just to eat all the things I didn't get to try. There are also three house hot sauces on the table and I was quickly obsessed with the smoked pineapple one. Bonus: they make their own ice cream in house! I was too stuffed to have any, but almost pulled the trigger on the Plaintain Ice Cream just because I was so curious.
I just got back from a weekend in Ottawa visiting my friend Katy and her family, and I ate like a queen. Katy made me her famous Sausage & Pepper Hash, and we also had a roast beef dinner, rotisserie chicken (they have a pimped out barbecue!), turkey burgers, and so much more. Thank you Katy! Hopefully you can make it to Champagne & Cookies this year!
Other non-foodie things I was obsessed with this month:
I really tried to read more this month, and got through a few books. I haven't watched Orange is the New Black yet, but a friend recommended the book, and it's fantastic. Please stay away from The Woman Upstairs. I haven't hated a book this much since A Visit From the Goon Squad. I'm currently working on my summer reading list and I'll share what I read next month.
The Bachelorette started, and I can't help it, I love this show.
I had the very best visit to Mync Lash Lounge & Brow Bar to help me with my eyebrow situation. As a reformed wax addict, Ivy at Mync threaded, plucked and filled my brows to gorgeousness, if I do say so myself. I can't recommend this place enough.