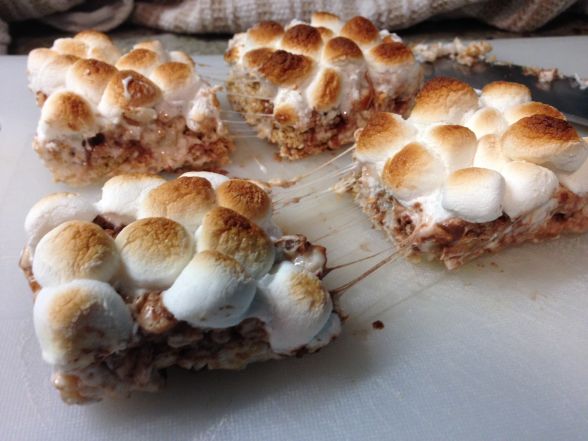 For our second recipe of Janelle week, we're having S'mores Rice Krispie Squares. I'm a sucker for anything involving the holy trinity of milk chocolate, graham and toasted marshmallow, and so is Janelle. I made these for two reasons: 1) She was mad at me because I got a new job and will be transferring to another department in June and 2) I could not stop thinking about rice krispie squares since my nephew's birthday party.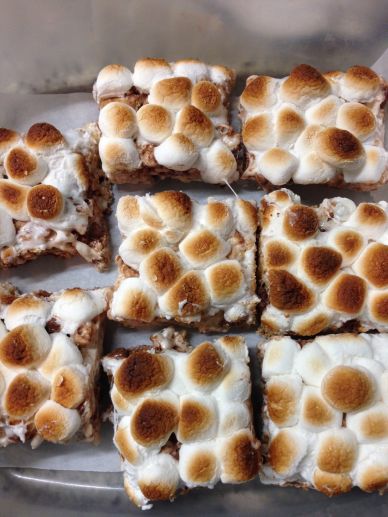 I wasn't even going to blog about these, but they were so good I just had to record them here. Super quick, super easy, super s'moresey, with an added bonus of getting people un-mad at you! And you just know these are perfect for summer BBQs.
S'mores Rice Krispie Squares
Source: The Baker Chick
Ingredients
10 oz mini marshmallows, and then set 1 cup aside to sprinkle over the top
3 tbsp butter
3 cups rice krispies
8 graham crackers, broken into small pieces
1/2 cup milk chocolate chips
Directions
Butter a 8×8 pan, or spray with non-stick spray. In a big microwave safe bowl, melt the butter and marshmallows together, and stir until smooth.
Pour in the rice krispies, graham cracker pieces and chocolate chips, and stir until everything is coated. The chocolate chips will melt a bit, but that's okay.
Add the mixture to the pan and use your fingertips to press in (spray them with non-stick spray if it gets too sticky).
Sprinkle the remaining cup of mallows overtop (I added more). Preheat your broiler, and stick the pan under. WATCH CLOSELY because the marshmallows will brown very quickly.
Let cool and slice into squares.