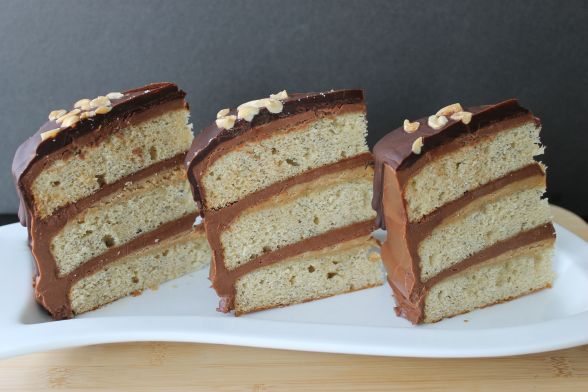 When you see a Baked layer cake on the Baked Sunday Morning schedule, you really have to evaluate your life and decide if you have time to bake it, and can fit it into your schedule. It also helps to find a family event or someone's birthday on your calendar to give you an excuse to make it, because it's hard to justify the investment of time, money and energy otherwise. Am I making this sound too serious? Maybe, but this is one serious cake. This is what's going on:
Three layers of banana cake
Peanut butter filling
Milk chocolate frosting
Dark chocolate ganache
Salted peanut garnish
Luckily I had a perfect reason to make this cake. We had a party at my parents' house a few weeks ago to celebrate their 45th Wedding Anniversary, Mother's Day, and a belated Easter celebration, so I felt like this cake was perfect for the occasion.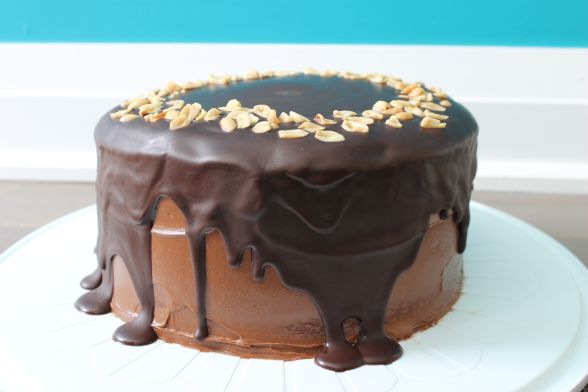 Overall, this cake is great (how could it not be?), but I found the cake layers just a touch on the dry side. As I've written in the past, I'm not a huge fan of Baked's frostings, so if I made this again, I would probably use my favourite chocolate buttercream (which I've yet to post, but will get to that eventually). On the plus side, the peanut butter filling is incredible, and I loved the flavour and look of this gorgeous ganache getting poured over the whole cake, which reminded me of another cake from my past.
As a side note, this is the cover recipe from Baked Elements and I tried to recreate the cover shot of the cake slices. Trust me when I say this was not easy to do at room temperature. Everything was slipping, sliding, tipping over and generally making a mess, and you couldn't see the layers on the inside.  I found that chilling the cake made it way easier to slice and it looked so much nicer in the photos. It was just a bit of  a revelation.
You can find the recipe here!
More Baked Sunday Mornings here!