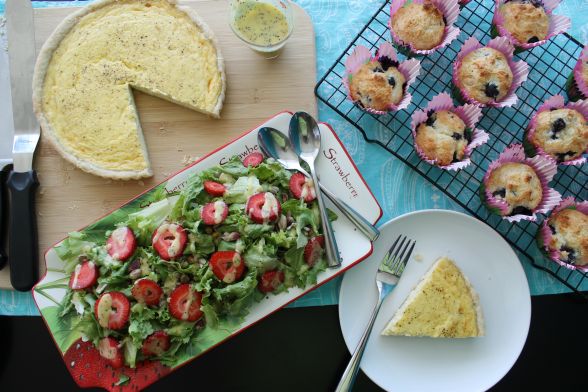 I usually love quiche; buttery, flaky crust, rich custard, and delicious filling combinations. Unfortunately this quiche was not for me, and was borderline inedible. I re-read the recipe both during and after baking just to make sure I made it correctly. I did. It's gross.
My Mom and I ate this for lunch today and were pretty disappointed. I don't think there are enough eggs in the custard – only 2 eggs and 2 yolks combined with 2 cups of cream/creme fraiche. I compared this to a quiche recipe I love and that one has 3 whole eggs with 1 1/2 cups of cream/sour cream. It was just too creamy. To make matters worse, the lemon (juice + zest) overpowered the whole thing. I said to my Mom that if you added just a few tablespoons of sugar, you'd feel like you were eating lemon pudding or lemon curd.
On the bright side, I made a great salad with strawberries, pistachios, sunflower seeds and a mango poppyseed dressing, and some perfect blueberry muffins that we loved.
You can find the recipe here!
More Baked Sunday Mornings here!