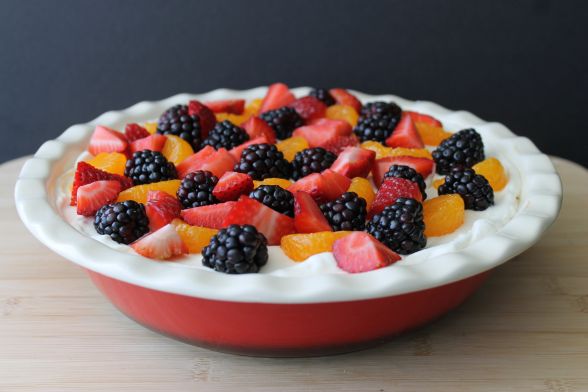 I've been giving Tres Leches Cake the side-eye for years now. In theory, it always sounded good: a vanilla sponge cake, soaked with a mixture of three different kinds of milk, topped with whipped cream. In reality, I was convinced it was actually just a soggy mess, and I think I've bought the stuff to make it at least three times over the past five years, always around Cinco de Mayo, before making something else.
You can probably see where this is going, right? I finally made, and of course, it's amazing. It's like a super hydrated strawberry shortcake, and it got gobbled up everywhere I brought it this weekend (I split the recipe in half to make two separate smaller cakes). The three milks (tres leches) soak into the cake, but magically don't make the cake soggy. It's wet, yes, but retains is structure and texture, so there's no mush factor, which is what I was always worried about over the years.
Anyway, this is a dream of a summer cake. It makes a huge pan, you can make it in advance, and because of the soaking step, won't dry out. I can see it topped with pineapple, mango and kiwi or raspberries and blueberries, or (be still my heart) a heap of Ontario peaches once we get to August. Can't wait!
Tres Leches Cake
Source: Martha Stewart
Ingredients
For Cake
5 eggs
3/4 cup sugar
1 tsp vanilla
1 1/2 cups flour
1 tsp baking powder
1/2 tsp salt
1/2 cup butter (1 stick), melted and cooled
Tres Leches for soaking
1 can sweetened condensed milk (300 mL)
1 can evaporated milk (376 mL)
1 cup milk (I used 2%)
Topping
1 1/2 cups whipping cream
2 tbsp sugar
1 tsp vanilla
+ assorted fruit (I used strawberries, mandarin oranges, blackberries)
Directions
Preheat oven to 350°F and spray a 9×13″ pan with non-stick spray (I actually split the batter between two pie plates).
In a large bowl, whip the eggs and sugar until pale and thick, about 3-4 minutes. Mix in the vanilla. Add the flour, baking powder and salt and mix until combined. Pour in the melted butter, and fold in gently with a spatula until combined. Pour the batter in the pan, and spread evenly with an offset spatula. Bake 30-35 minutes or until a toothpick inserted into the centre comes out clean (mine only took 20 minutes in the pie plates).
While the cake is baking, whisk together the sweetened condensed milk, evaporated milk and milk. When the cake is done, poke them all over with a toothpick or skewer.  Slowly pour the milk mixture over top the cake (it will totally absorb) and let cool to room temperature.
When cake is cool, add the whipping cream, sugar and vanilla to a large bowl and mix on high speed until medium peaks form.  Spread over the cake with an offset spatula and top with fruit. Chill until time to serve.