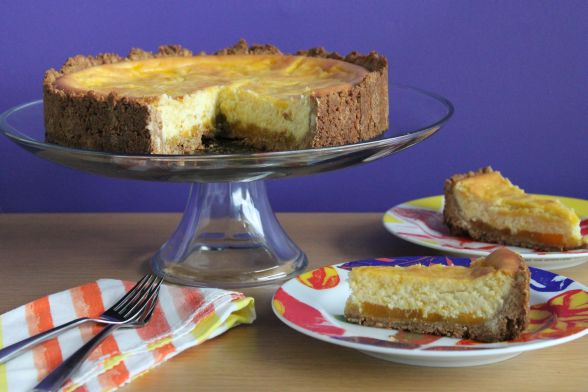 The first time I made this cheesecake was either 2002 or 2003. I think I made it for Easter and it was an absolute disaster. I remember it leaked all over the bottom of the oven, resulting in a smoke filled kitchen. I remember the mangoes I used weren't quite ripe enough, which I didn't understand also meant they weren't the right texture or sweetness to bake with. I remember it took me the entire day to prepare. I remember it didn't taste quite right, but my family ate it anyway.
At the time, I was devoted to Anna Olson and the Sugar show, and I'm sure she made it look so easy. I think I had also just had my introduction to Thai food, and loved the thick, sweet mango juice that I always drank with my meals.
More than 10 years later, I've always thought about this as my #1 kitchen disaster (it's always been referenced in my Life on Planet Byn/About Me page) and wanted to tackle it again. Our Gastropost Mission this week was Tropical Fruit, and although this Pina Colada Cake was the first thing to come to mind, I couldn't resist the chance to conquer this feat.
So what have I learned after 10 more years in the kitchen to make this a success?
Read the recipe all the way through well in advance of execution. I definitely didn't do this way back then. This lets you plan everything out a little better, especially since this recipe has four separate components (crust, fruit filling, cheesecake, mango swirl) and a long bake time (90 minutes).
Some components can be made in advance. I made the crust and the fruit filling in the morning and let them cool completely, then finished it off at night.
Frozen fruit is your friend. Obviously I'm all about fresh, local fruit, but when it comes to mango, I find the taste and texture varies among the ones I buy at my grocery store. Frozen on the other hand is always consistent; it's ripe, sweet and ready to go whenever you need it. I've adapted the recipe below for frozen mango.
The final thing I learned, which I really already knew, is that I don't like fruit in my cheesecake. Give me Oreos, peanut butter, and cookie dough. But I can still appreciate that this tasted way better than the one I made all those years ago!
Are there any epic fails in your baking past that you've always wanted to make again? I also remember a free form apple galette that was a hot mess as well. Maybe I'll take that on this Fall.
Mango Swirl Cheesecake
Source: adapted slightly from this Anna Olson recipe, only to swap in frozen mango for fresh
Ingredients
Crust
3 tbsp sugar
2 tsp lime zest
1 cup (2 sticks) butter
1 1/3 cup flour
1 1/3 cup graham cracker crumbs
1 1/3 cup unsweetened, shredded coconut
1 tsp salt
Fruit Filling
2 tbsp butter
2 cups frozen mango, thawed and diced*
1/4 cup sugar
1 tbsp lime juice
1 tsp lime zest
Cheesecake
1 lb cream cheese (two 8oz pkg), room temperature
3/4 cup sugar
1 1/2 tbsp flour
1/8 tsp salt
1/2 cup mango puree*
2 tbsp sour cream
1 tbsp lime juice
1 1/2 tsp vanilla
3 eggs
Mango Swirl
1/2 cup mango puree*
3 tbsp sugar
1 egg yolk
*Buy one of the frozen bags of mango and take out two cups for the fruit filling. Puree the rest with about 1/4 cup of water and you'll have just over a cup of mango puree to use in the cheesecake and for the swirl.
Directions
For the crust, preheat the oven to 350 and spray a 9″ springform pan with non-stick spray. In a small bowl, add the sugar and lime zest and with clean hands, rub them together until the lime zest has broken up and is incorporated into the sugar (the reason I'm adding this step is to evenly disburse the lime zest into the sugar, and therefore the crust. Mine kind of stayed in clumps).
Melt the butter in the microwave in a large microwave safe bowl (or you can use a saucepan if you don't have a microwave). stir in the lime sugar, flour, graham crumbs, coconut and salt. Mix well, then press the mixture into the bottom and up the sides of the springform pan with your hands. Bake for 8-10 minutes until brown, then set aside to cool completely. This can be done up to a day in advance.
For the fruit filling, melt the butter in a saucepan over medium heat, then add the mango, sugar, lime juice and zest. Saute for 8-10 minutes until the mixture thickens and most of the juices have evaporated. Pour into a bowl and set aside to cool completely. This can also be done up to a day in advance.
When you're ready to finish the cheesecake, pour the fruit filling into the crust and spread it evenly with an offset spatula or knife. Preheat the oven to 300 and get going on the last two components.
For the cheesecake filling, in a large bowl, beat the cream cheese until smooth with an electric mixer. Add the sugar, flour and salt, and mix again. Add the mango puree, sour cream, lime juice and vanilla and mix again. Mix in the eggs, one at a time, scraping down the bowl after each addition. Pour into the crust, over top of the fruit filling, and spread evenly with an offset spatula or knife.
For the mango swirl, whisk together the mango puree, sugar and egg yolk. Pour in a swirly pattern overtop of the cheesecake. Use the tip of a knife or a skewer to swirl it in further, but make sure not to over-swirl or you'll just mix it right in.
Bake the cheesecake for 90 minutes. If at any point it starts to get too golden, cover the top with tin foil. After 90 minute give it a shake to make sure the middle isn't too jiggly (it will have a slight jiggle, but firm as it cools). Turn off the oven, crack the oven door and let the cheesecake cool to room temperature, then move to the fridge to chill overnight. I didn't have time, so I let it cool for a bout half an hour in the oven before putting it in the fridge.
Just before you serve, run a knife or offset spatula around the crust before unmolding.