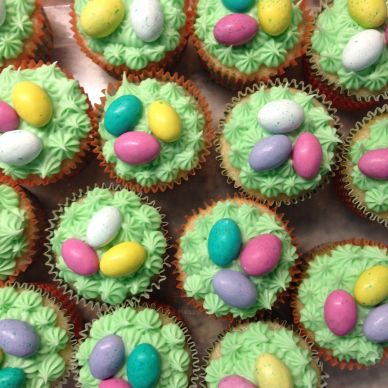 I feel like everyone was slowly coming out of hibernation this month, and all of a sudden April was packed with stuff to do. I've already written about a few things (YEASTER, Gastropost's 100th Mission Party, Easter) but here are a few more foodie related activities I got up to:
I went to Spadina Museum to see a costume exhibit from Downton Abbey, and I feel like the reward for climbing that big hill by Casa Loma is to go to Rose & Sons for dinner. My friends and I shared a whole bunch of stuff, including deep fried pickles with peanut butter dipping sauce (sounds crazy but it works) and a huge hunk of griddled cornbread drizzled with maple syrup, chili sauce and green onions. We also split a patty melt (kind of awkward to share, but we made it work) and mac + cheese which was insanely rich and decadent. I definitely need to go to Rose & Sons' sister restaurants: Big Crow (out back behind R&S) and Fat Pasha which just opened.
Ethan from FBC was in town so a whole bunch of us met up with him at Boots & Bourbon for some drinks and snacks after work. Unfortch, the mechanical bull was out of commission, but we had a great night catching up and getting excited for #FBC2014 in Vancouver this October.
As promised, Nicole and I cooked up a vegan feast from The Oh She Glows Cookbook. We made the Kale Caesar Salad with Nutty Herb Croutons, Creamy Vegetable Curry, and Glo Bars for a snack. The dressing on the salad uses blended soaked almonds to make it creamy, and a whole head of roasted garlic; I was surprised by how much I loved it. Altogether I've made about a dozen recipes from the book and everything has been great so far. Going to be cooking a lot more out of this book in May.
An excellent club sandwich is one of my simple joys in life, and I had the most incredible one at Hawthorne near my office. Smoked turkey, thick bacon, roasted cherry tomatoes, avocado…I daydream about this constantly.
Kristine came over to watch Game 1 of the Raptors playoff series against the Nets, and we ate this Buffalo Chicken Chili for lunch. I added cannellini beans, which were a great addition, but I think I should have added more Frank's. Next time.
I made these Nutella-Stuffed Brown Butter Chocolate Chip Cookies with Sea Salt to thank a co-worker for helping me out with something, and brought the rest to Easter dinner at Nicole's Mom's house, along with the leftover Carrot Cake Cupcakes. The cookies are cramazing (crazy + amazing), but I think they need to be scooped and then chilled. After chilling the dough for the recommended 2 hours, the dough was totally firm and couldn't be scooped. Kind of annoying.
Other non-foodie things I was obsessed with this month:
I sped through The Middlesteins over Easter weekend and I loved it. This is my favourite kind of book; just an intense character study of the individuals in an effed up family. It reminded me a bit of This is Where I Leave You. My only problem was that it was too short; I felt like I could have read double or triple the amount about that family.
The best show on TV, The Mindy Project, returned from hiatus and is just tearing it up. I'm 100% obsessed and so happy it's renewed for a 3rd season. I don't want to write any spoilers, but let's just say it takes a special show to have me laughing out loud and bawling my face off within the span of 22 minutes.
Last night my sister-in-law and I went to Lainey Gossip's book launch party in the Distillery District, where she was interviewed by Johanna Schneller from The Globe & Mail before doing a Q&A with the crowd. I bought us VIP tickets so we could go to this little reception before the event, where we sipped Squawking Chicken cocktails, picked up a swag bag, and got to meet Lainey herself. True to form, she snarked at me right away when I told her I was excited to hear her take on George Clooney's engagement, and she replied, "We'll probably talk about the book first, is that okay?" OMG. I kind of loved it.